It's a mistake to define ourselves by others' criticism. After all, the naysayers usually have personal motives when they strike out at you. We create and are responsible for the world in which we live. Your world will be so much more abundant if it doesn't include naysayers.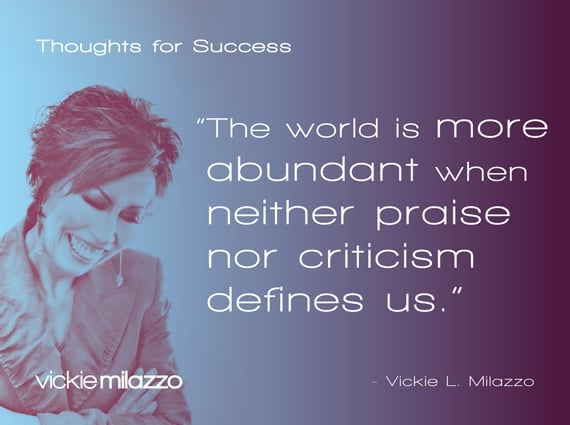 I've learned to, and been blessed to, surround myself with successful and powerful people, people who operate from a place of abundance. Using them as role models has helped me to dismiss the naysayers – a big reason I'm still here 33 years later while the naysayers have fallen by the wayside or become even more malcontent in their small worlds.
Likewise, it's a mistake to define ourselves by others' praise. I've had my share of that too. Many RNs tell me they're nervous when they meet me, which always gives my heart a big chuckle. After all, it's just ME they're meeting – not Oprah, Richard Gere or the Dalai Lama. There are days when my staff are all too willing and happy to line up alphabetically just to take the opportunity to remind me I'm just Vickie and I'm quite grateful for that (at least most days LOL).
Every Certified Legal Nurse Consultant has had an attorney's praise, but that doesn't mean improvements should stop. If you're not careful, the attorney's press and praise becomes yours, and before you know it, you're believing all your own press.
Too many times we get swept up in other people's praise and criticism and let everyone else tell us how we're doing. When we do, we oscillate from abundance to lack. I believe as humans we're meant to know ourselves to the core, making decisions in concert with who we are and who we're meant to become – inhabitants of an abundant world.
I'm Just Sayin'
P.S. Comment and share how you ensure others' praise and criticism doesn't define you.