Info Packet Request Form*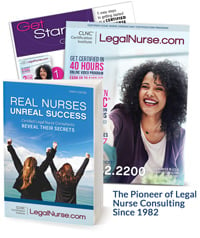 Please complete the form below to receive immediate access to your free info packet, including:
Certification Catalog
FREE book on legal nurse consulting
Preview Module 1 of the CLNC® Online Certification Program for Free
*All fields are required.
Thank you for requesting our Info Packet! We will send the Certification Catalog and the FREE Book on Legal Nurse Consulting to you promptly.
By clicking above, you agree to receive emails from LegalNurse.com.
Your privacy is important to us. Click here to read our Privacy Policy. We do not share email addresses with any third parties.