Successful Certified Legal Nurse Consultants know the power of being focused completely on one thing – and one thing only. But it's easy to forget what that even feels like with our kids, spouses, attorney-clients, legal nurse consulting cases, email and Facebook friends coming at us 24 hours a day.
Gorilla trekking in Volcanoes National Park in Rwanda reminded me how the power of an empty mind heightens focus. Mountain gorillas are called that for a reason – they live in the mountains, not a zoo. So to see them you have to go where they go. And that meant trekking through a dense rainforest. No trails. Steep ups and downs over slick, muddy ground. It rains there almost every day and the ground reflects it.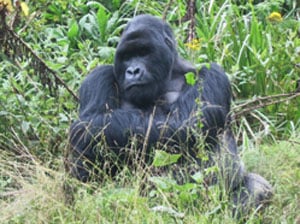 Click me to see more photos of me and my family!
We were blessed with a perfect day – but still the ground was slick from previous rains and it made for treacherous footing. I was totally focused on each and every step. My only concerns – the root I was about to trip over or the muddy patch that I might slip on and slide off the 40-ft drop off. Then there were those pesky stinging nettles and other plants grabbing me and saying "wait-a-minute" while extricating myself from their grasp to push onward. All while gasping for breath at 10,000 feet and higher as I climbed to the high rim of that mountain valley. Some 2 hours and 20 minutes later, when we reached the gorillas, my mind was completely empty of any thoughts about business, family or day-to-day concerns.
After the rigors of the trail, I was completely focused on the gorilla family that was presenting in front of me. In the midst of these awesome beauties, it was easy to think of nothing else – just watching the gorilla family go about their daily rituals: feeding, grooming, napping and playing. When a young male fixes his inquisitive gaze on you and starts to move in your direction to investigate, you're suddenly relieved when it turns out he was more interested in a small eucalyptus plant than you. When the dominant male silverback appears and walks the periphery of his family to make sure they're all safe from the human interlopers it's easy to stay focused.
And then, all too quickly, time is up. That's when I'm reminded that if there's a trek in, there's a trek out too. At least then my head was filled with the experience of the gorillas. I remembered the huffing sounds of the silverback saying "all's good" as he made the rounds of his family. There were the mental pictures of one young male climbing a hut-shaped bush to feed on the tender growth near the top while other young males stood up and beat their chests in adolescent shows of dominance – just like in those B-movies. I'll treasure forever seeing the mother groom her young baby, play-wrestle with him and then cuddle him to sleep in her arms.
I quietly bid goodbye and as we turned to start our hike back up the crater I heard my guide whisper loudly "Get off the trail! Get off the trail!" I turned and stepped up into the undergrowth, but not before one young male brushed up against me as a reminder that he was king of that particular section of the rainforest. The guides had warned us that the young gorillas would sometimes toy with the viewers with fake charges and the occasional brush-back – but I never expected it to happen to me.
Some people empty their mind through meditation. That's never been my strong point and too easily turns into a nap. I've found my mind empties easier with a challenging activity – something that requires my concentration. But most importantly, if you don't know what an empty mind feels like, you are depriving yourself. Only then can you get to your next level – releasing worries and fears to thrive at your highest level of consciousness.
You don't have to go to Rwanda to empty your mind like I did – but do this for yourself as frequently as you can and you will want more and more of it for yourself.
The hikes, in and out that day, were the most arduous hikes I've done since trekking the Everest side of Nepal 15 years ago. In Nepal too, I achieved an empty mind (along with empty lungs) from focusing on taking one step at a time in the ever thinning Himalayan air. But just like my first sighting of Mt. Everest, that first sighting of a wild mountain gorilla made it all worthwhile and created a memory I'll have forever. Plus the reminder to encourage all of my CLNC® friends to take a moment today to find something that will empty your mind.
I'm Just Sayin'
P.S. Comment and share the activities you do to empty your mind and increase your strength of focus.
Save
Save