A long time ago and in a blog far, far away I talked about the necessity (or usefulness) of password managers for Certified Legal Nurse Consultants. At the time I talked mainly about computers but let's face it, we're in a mad, mad mobile world and it's just as, if not more, important to have your passwords accessible on your phone. Sure, you can store them on your phone but that's not nearly as secure as in a password manager.
My recommendation at the time was the Dashlane password manager and I still stand by that recommendation. Dashlane generates strong passwords, autofills passwords and address information on the websites I visit (on the computer – not on my phone (yet)). I even upgraded from the free version to the premium and now have my passwords easily accessible on every device I own (iPhone®, iPad® and laptop). You can use it on unlimited devices (of your own) and with just about every OS out there. The newest version of Dashlane does more than just password management, but that's most likely all you'll use it for.
Add some security to your legal nurse consulting phone and mobile world with Dashlane today – as long as you remember your master password you won't regret it.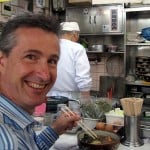 Keep on Techin',
Tom
P.S. Comment here and share your experiences with Dashlane or another password manager.