Now that the holiday shopping season is over, it's time for all Certified Legal Nurse Consultants to take a few minutes and make sure that their computers survived the shopping stress. There's all sorts of things that get installed on our computers while shopping and surfing the web. These include relatively harmless things such as tracking cookies and seriously harmful things such as malware.
Now that you're all in a good space with a little extra time on your hands, I seriously recommend that every CLNC® consultant visit the Malwarebytes website, download and run the free version of the Malwarebytes Anti-Malware software. Do this for each of your legal nurse consulting business computers and every other computer in your household – children, spouse, etc.
There are many potential sources of malware infestations and malware installations can be difficult to identify. There are also a lot of different anti-malware software packages out there. But for simplicity's sake, Malwarebytes makes it easy to install the software, run a pretty darn deep scan, identify potential malware and help you remove any potentially bad stuff right on the spot. Even though Vickie and I stay out of the bad neighborhoods on the Internet, I still run this on each of our laptops once a week. One of the keys to safe computing is regular computer maintenance and adhering to Internet best practices for legal nurse consultants. This is one good start any Certified Legal Nurse Consultant can make today.
No anti-malware program is perfect, but Malwarebytes is close. Take a few minutes to download, install and run it today. You'll thank me later (really).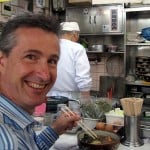 Keep on Techin',
Tom
P.S. Comment and share the results of your Malwarebytes scan – if you dare.