The other evening the printer in our home office started throwing error messages – specifically the dreaded 0x97 error. This happened just before 7:00pm on a Wednesday night and with an entire unencumbered evening ahead of me, I immediately launched into trying to investigate and remediate the issue.
Following my own advice I first Googled the issue and naturally came up with a whole list of fixes. Drilling down into the various pages of advice websites I immediately noticed a disturbing trend – much of the advice seemed the same and that the advice raised a couple of red flags.
The first red flag was that the printer error was somehow connected to malware or a corrupt registry entry on my computer. The advice sites recommended that I download, install and run an unspecified combination of "malware detection" and "registry fix" software packages. I knew that it was unlikely that malware would interfere or create a mechanical issue on my printer (especially when I got the same error trying to print from Vickie's laptop). And while a corrupt registry entry sounded almost plausible, my ability to duplicate the error issue on a second computer confirmed that it wasn't something endemic to my computer. So that all but guaranteed there was no way I'd download and install strange software on my computer.
But, on the off-chance that it could be malware, I ran a malware scan using the super-safe and well-regarded Antimalwarebytes software that I recommend all legal nurse consultants keep handy for just this type of instance. While the scan was running I kept investigating the issue.
The next red flag was raised by other advice websites wanting me to install different "hot-fix" and/or "diagnostic" software. When you're having a computer issue one of the last things you want to do is download and install potentially dangerous and unknown software simply because it's recommended on an advice website.
So, instead of installing what could have been, and in all likelihood was, yet another malware package on my computer, I surfed over to Epson's website and investigated the error there. After all, checking on known printer issues on that same printer manufacturer's website should be the first and most logical step. There I downloaded updated (and genuine) Epson drivers. But they didn't solve my problem. At least that helped me determine that I indeed had a hardware issue on the printer and not a software or registry issue on my computer. So, I quit work and ecologically trashed the printer.
Today, I've got a new printer in the office and I'm passing on the lessons I learned to all Certified Legal Nurse Consultants. While you can certainly search the Internet for advice, be careful what advice you take. Only download software from safe sites – such as the manufacturer of your hardware – and don't rush into any quick fixes, as they may not be.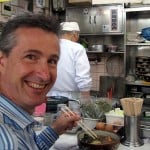 Keep on Techin',
Tom
P.S. Comment and share your favorite website (besides this one) for tech advice.