Yesterday I received an email from someone I know who passed on about this time last year. It isn't the first time he emailed me posthumously, and it won't be the last. In fact, he isn't the only dead person that emails me. What is so urgent that this legion of apparently living dead have to communicate from the other side? Well, as you can guess, it was spam and not for life-extending supplements.
My best guess is that after he passed, none of his children shut down his email account. Whatever the reason they left the account live, they left it open to spammers. That means that other parts of his digital legacy are most likely active too.
To avoid this situation, I've long advocated that Certified Legal Nurse Consultants use a password managing program or keep a list of your legal nurse consulting business and personal passwords that will make it easy for your survivors to shut you down and wind up your legacy after you've gone.
Take a moment today and pass on the passwords for not just your legal nurse consulting business, but your digital legacy, or at least the password to your password management program if keeping an up-to-date list is too much trouble.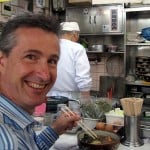 Keep on Techin',
P.S. Comment and share how you keep up with your passwords and what you've done to protect your digital legacy.