Last weekend was a whirlwind. It started at the Consultant 2.0 Reception Thursday night with our surprise guest, Oprah Winfrey. Friday was our incredible Consultant 2.0 Workshop with Stedman Graham. Saturday morning Tom and I flew to Napa, California for a Vintner's Party on Pritchard Hill hosted by the owners of one of my favorite wineries, Continuum, which is owned by the Mondavi family.
By the time I fell into bed late, and I mean late, Saturday night I was exhausted. Life was good – at least until around 3:20am Sunday morning when the freight train drove through my hotel room and the wrecking crew started in on the bedroom. Suddenly awakened from a deep sleep I had no idea what was happening.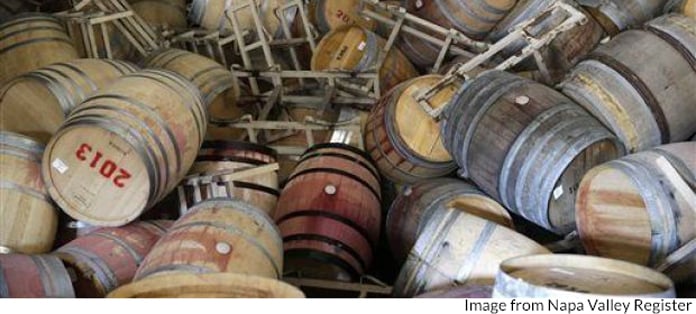 Our bed was rolling worse than the Force 7 seas we'd faced when crossing the Drake Passage. Crashing noises came from every space as potted plants fell over and wine glasses and candleholders flew off their shelves to break on the floor. The power was out – it was pitch black in the room. My disorientation was total and complete. For the second time in my life I was truly terrified (the first was skydiving).
Once the roaring, rocking and panicking began to subside though, the nursing process kicked in.
Assessment:
Loud roaring noise – unlikely a freight train was routed through the room, therefore must be some other explanation.
Bed rolling – not at sea, therefore no danger of sinking and no need to search for lifejacket.
Limbs intact – no broken bones and able to make screaming noises, therefore still breathing.
Diagnosis:
Last known location was Napa Valley so I can rule out hurricane, tornado, mudslide and volcanic eruption. Diagnosis = earthquake!
Planning:
Stop screaming and panicking (more difficult than expected).
Locate flashlight (if flashlight exists) somewhere in pitch black room.
Do not light candles for use in search for flashlight – there could be gas leaks.
Put on sneakers due to high likelihood of broken glass.
Take off sneakers, get dressed and put sneakers back on due to necessity of clothing in case nursing skills are needed as first responder.
Check immediate surroundings for damage.
Locate Tom and determine physical and psych status.
Find news source to confirm this is not a nightmare and to figure out what the *#$% is going on.
Implementation:
Banged knee on table looking for flashlight.
Located flashlight.
Banged other knee looking for Tom.
Located Tom.
Confirmed with hotel staff that what I just experienced was indeed an earthquake and should therefore shelter in place.
Evaluation:
Nothing is moving, shaking or on fire.
Power is out so no lights or hot water for cup of calming green tea.
Extent of local (my hotel room) damage simply some broken glass.
Ceiling fan over bed does not present immediate danger of decapitation.
No water, gas or urine leaks.
Car is upright in parking lot.
Land lines and wireless Internet both down.
Called friend on East Coast to get news.
Final Evaluation:
Tom and I survived.
Clinical nursing skills not needed as no injuries to guests. Lucky for them since I left the hospital in 1983.
Adrenaline rush about to wear off (leaving me exhausted).
Immediate Options:
Either join post-earthquake party two rooms over and have glass of healthy red wine to help return to calm.
Or go back to bed and shelter under covers with Tom throughout aftershocks.
The next morning while sitting with a cup of healthy green tea Tom managed to scrounge up, I reflected on how peoples' lives can be altered in seconds as many in the Napa region were. I also reflected on how the nursing process got me through the worst earthquake in California in 25 years (6.0 on the Richter scale). Maybe not with my customary grace and aplomb, but at least with all my body parts intact.
When you start your career as a Certified Legal Nurse Consultant hopefully you won't be experiencing any 6.0-magnitude earthquakes, but you will be calling on the nursing process to manage your CLNC® business and analyze medical-related cases. I'm forever thankful for my nursing instructors who instilled the nursing process in my brain. It has helped me in so many ways and as a CLNC consultant, it will help you too – even when your world is rocking (literally).
I'm Just Rockin'
P.S. Comment and share how the nursing process has helped you when you least expected it.