This isn't really as much a Tech Tip as it is an act of self-reflection to close out the year. The other night Vickie and I attended a dinner where we were seated communally, meaning with people we didn't know. We quickly hit it off with the couples at our table and were soon engaged in lively and spirited conversations. We all shared many of the same interests, travel destinations and more, which made the conversation enjoyable.
But then I nearly crashed the ambulance. One man and I disagreed on a hot issue. I was fully prepared to argue the point with him, relying upon my basic understanding of the matter at hand. As I mentally developed my line of argument it slowly dawned on me that my worthy opponent knew more about the subject than I did. Much more, in point of fact.
Suddenly, or luckily, the words of Winston Churchill sprang to mind "Never engage in a battle of wits with an unarmed man," and I realized I was the one that was unarmed or, as we say in Texas, outgunned. I smoothly let the course of the conversation move on to other subjects.
The point of this Tech Tip is to be careful about what you choose to argue about and with whom you choose to argue. Keep in mind that your attorney-clients, tech support personnel and legal nurse consultant subcontractors may know more than you about a subject. Keep your mind open to opposing points of view and listen carefully all while keeping in mind that the other person may actually be correct and you may be the one who is outgunned. You don't want to ruin your reputation as a legal nurse consultant by arguing for the sake of arguing – especially when you're in the wrong.
As we enter 2017 my resolution is to argue less and listen more. You can check with Vick later to see how that's working for me (and her LOL).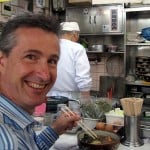 Keep on Techin',
Tom
P.S. Comment and share how you know when to listen and when to argue.
Save
Save