We all have bigger dreams we want to pursue. We also have bills to pay and groceries to buy. So if you're ready to dream big, what do you do first? The answer will probably surprise you.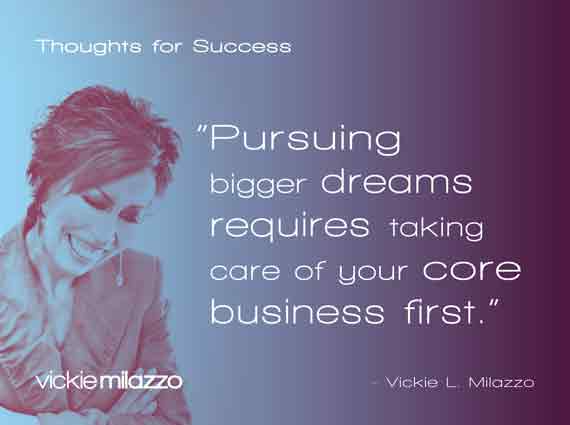 Pursuing dreams always requires taking care of your core business first. If you're a Certified Legal Nurse Consultant wanting more attorney-clients you must first take good care of, and provide superlative work product to the attorneys you already have. In fact, the best marketing strategy for acquiring new attorney-clients is producing quality work product and delivering unrivaled service to receive referral business. Referral is the easiest way to obtain new attorneys and it's free; that's why it's my favorite.
If you're an RN seeking to get started as a part time Certified Legal Nurse Consultant, taking care of your core RN job by giving all you've got ultimately makes you feel good about yourself and raises confidence for talking to, and interviewing with, attorneys. You're also gaining experience along the way that strengthens the value you offer to attorneys.
When taking care of your core business is degraded, that degradation seeps into every aspect of who you are and blocks you from achieving big. 2017 is almost upon us. It's time to dream big. As you act on bigger dreams don't forget to mind your core business along the way.
Success Is Yours!
P.S. Comment and share how you take care of your core business as you pursue bigger legal nurse consulting dreams.
Save