If you're working on a legal nurse consultant job late into the night, slaving away over that hot keypad your eyes can often use a little help. You might be checking the alignment of a table, a paragraph, part of an image or just trying to see whether or not you used a semi-colon or a full colon. You may not want to lean into your monitor (nose prints make them dirty) or just don't want to take your hands off the keyboard and go look for your reading glasses.
Here's a simple way to zoom that screen to where you can see everything. Simply hold down the Windows® button (it's the button with the little window pane icon) and then hit the plus (+) key. That will engage the "Magnifier" and zoom in your screen. Then by moving your mouse around you can see different parts of your screen and can keep increasing the zoom. You can also decrease the level of magnification by holding down the Windows button and hitting the minus (-) key.
When you're done zooming hit the Windows button and Esc to close the magnifier. Getting a new view is just that simple.
Now Certified Legal Nurse Consultants can get a closer look at your work.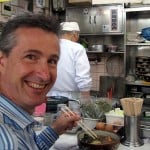 Keep on Techin',
Tom
P.S. Comment here and share your favorite Windows trick.