If you've diligently followed my Tech Tips and have moved to dual monitors you'll love this Tech Tip. In point of fact, even if you haven't been the most diligent of followers, and are still working on a single monitor you'll find this useful. Instead of monotasking like a normal human male, most Certified Legal Nurse Consultants are experts at multi-tasking while working on their legal nurse consultant jobs.
That means you'll have multiple windows open on your computer at any given time. Some may be for research, one for creating or moving Word® content for work product, your calendar, email and finally one for the most important part of your day, social media.
The problem is trying to find a way to cycle through these quickly when you need to move back and forth between open windows. You may be writing a legal nurse consulting case report and want to quickly see something open in another window, but by the time you mouse down to your toolbar and find the correct program, or open Word window, you've lost that extremely important and case-winning thought. Rather than close all those windows, here's a quick way to move from window to window or screen to screen without delay.
Simply hold down your Alt key and then hit the Esc key. You'll find that doing this repeatedly will move you from one open window or program to the next in the blink of an eye. Once you use this tip you'll be glad to have it in your power tools inventory.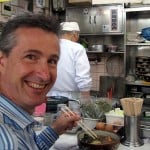 Keep on Techin',
Tom
P.S. Comment and share your favorite Word tip.