The holidays are almost upon us and that means that CLNC® consultants will be venturing out of their home offices and heading into the wild to enjoy holiday travel and visit friends, family, etc. Therein lies the dilemma – whether your holiday is Christmas, Hanukkah or Festivus – do you take your legal nurse consultant jobs with you or leave your work at home and risk alienating an attorney-client because you can't respond timely to a demand or need?
If you're a laptop user, bringing your work with you is pretty simple – you just load it onto your laptop and bring it with you. For obvious reasons (considering we travel with a portable printer and scanner in addition to iPhones®, iPads® and laptops) this is my favorite.
If you're a desktop user it's a little more difficult – you could subscribe to Microsoft®'s Office 365 or Google® Docs to keep your documents in the cloud and then access and edit them from wherever you find yourself. If you're an iPad or other tablet user, these are excellent options as you have the ability to edit anywhere you can get online without the necessity of carrying a laptop.
Apple's iCloud service and Dropbox are options for remote document storage and access for Certified Legal Nurse Consultants, but without the editing ability. They're not a tremendous plus, unless you know you can use a computer wherever you end up.
Yet another option is to carry your important documents, like your legal nurse consulting work product, on a USB Flash Drive and then work on them anywhere you can get access to a computer (that's virus free) that has a similar version of your word processor.
Whichever method you choose, remember to get in touch with your attorney-clients in advance of leaving town to make sure you won't be missing any deadlines. If you're going to be computer-less plan in advance and make sure all your legal nurse consultant jobs are up-to-date. If you've got deadlines, get a laptop or tablet and be prepared to work – preferably while someone else is doing the holiday dishes.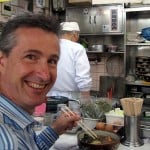 Keep on Techin',
Tom
P.S. Comment and share how you stay up-to-date on your legal nurse consultant jobs while enjoying holiday travel.