There's a famous quote "Nothing exceeds like excess." At first it's hard to grasp, but the more you think about it, the more relevant it becomes. Last week I was in a meeting with an attorney and he started to tell me about a wedding reception he'd attended that had shirtless male models wearing overalls walking around shucking fresh oysters for the attendees (Darn I'm upset that I missed that one!) and another that had monogrammed cloth napkins for the guests.
I attended a bat mitzvah hosted by a friend that cost more than $150,000. And I'm suffering an excess of invitations to wedding showers that will serve customized, individualized pastries, followed by wedding gift registries that exceed the gross domestic product of some Latin American countries and the soon-to-follow baby gender-reveal parties, followed by increasingly lavish baby showers for that soon-to-be newborn and then the inevitable birthday parties with monster trucks, reptile wagons or inflatable jumping slides.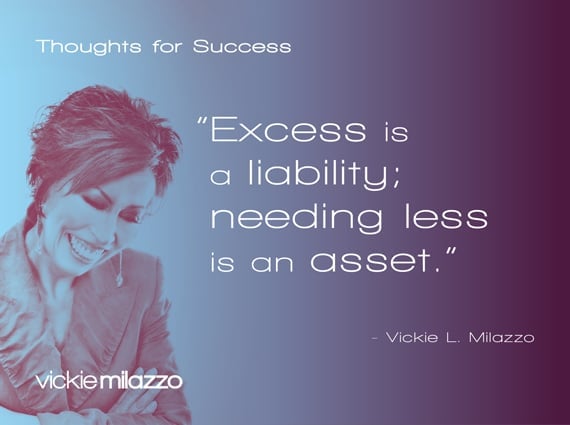 We keep setting the bar of excess higher and higher. The funny thing is that there's not necessarily any satisfaction from it. Raising the bar of excess is a liability because it's more likely to lead to dissatisfaction than happiness. The more you want and get, the less you enjoy what you have. Needing less is the asset we can all use more of.
I suffer from my own excesses and there are three ways I confront them to elevate the needle of my gratitude meter. Whether I'm visiting a developing country like Rwanda, playing in the backyard with my six-year-old niece or simply getting out in the woods to hike and breathe some fresh air, I am reminded of the true meaning of life.
Whatever it may be for you, indulge in less by exploring those things that remind you of the silliness and excesses of life. Transport yourself to a world beyond $6 cupcakes and half-naked oyster dudes (Darn!). You might not be able to stop the craziness of excess entirely, but getting away from it occasionally helps you distinguish what you love, what you need and what you don't.
I'm Just Sayin'
P.S. Comment and share whether you need to step back from the brink of excess. How do you know?
P.P.S. Who wants an oyster? Go ahead admit it. LOL!