About this time of year Certified Legal Nurse Consultants' thoughts turn to the purchase of a new computer. Perhaps you feel it's time to upgrade from your old desktop that takes 45 minutes to boot up in the morning to one of the sleek All-In-One computers. You might be a road warrior who's tired of hauling an old 70 lb. laptop and are craving a new SSD Ultrabook. Or maybe you're counter-PC-culture and have an older Mac® computer but want to upgrade to a sleek, thin MacBook® Air® laptop.
My advice to my CLNC® amigos: the only reason to go out and buy a new computer right now is if you've suffered a fatal computer crash and need a replacement yesterday. For the rest of us, sit tight and wait. "Why wait?" you might ask. Because Windows® 8 and touch screens are coming in the fall – on tablets, monitors and laptops.
If you're a CLNC® consultant who is running Windows XP on your current computer, your next computer will have the Windows 7 OS. You'll need to learn that and then suffer the upgrade process to Windows 8 later, but without the touch screen capability. If you're running Windows 7 there's no reason to upgrade yet. It's a great, stable OS but if your current machine is so slow that it interferes with your work, maybe you should upgrade for the productivity increase.
Windows 8 will be a major departure from prior versions and from the previews I've seen it will be well worth waiting for. It seems to be primarily designed for tablets and has retro-fitted the tablet look to the regular PC. Beta-users love it and hate it. By the time it comes out it should be well refined. That leaves you with the choice of the devil you know (Windows 7) versus the devil you don't know (Windows 8). Unless I suffer an unrecoverable, catastrophic failure, I'm going to wait and see. While you make up your mind, you can read more about Windows 8 here.
CLNC® Mac users also have a difficult choice. The new "OS X Mountain Lion®" operating system will be out in the summer or fall. Older Mac systems probably won't be upgradable but some of the newer systems probably will. You can read more about Mountain Lion here. If you're considering buying a new Mac, wait and get one that's optimized for the new OS. You'll be a much happier CLNC® consultant than if you simply upgraded an old box to a new OS.
Tablets aren't ready to replace your legal nurse consulting business' computer (not yet), so you still need a computer. If you absolutely, positively need a new computer now, go ahead and get it. However if you can afford to wait, it may be worth it.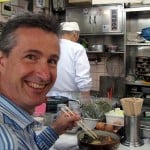 Keep on techin',
Tom
P.S. Comment and share what you plan to do for your next computer.