Every Certified Legal Nurse Consultant I've ever met who uses Windows® XP knows the utility of using that small Show Desktop button that resides in the Quick Launch section of their Windows Taskbar. I've always found it a handy option – the ability to instantly clear my screen by clicking one little icon. It frees you from having to minimize multiple windows in order to find that one legal nurse consulting file that you've saved to your Desktop. But, like all taskbar icons, it can get deleted and we become lost without it.
So, what's a CLNC® consultant to do? If you're running Windows XP and delete the Show Desktop icon simply do the following:
Open Notepad (or any text editor – not Word though)
Type the following (without the bullets):

[Shell]
Command=2
IconFile=explorerexe,3
[Taskbar]
Command=ToggleDesktop

Save the file to your Desktop as "Show Desktop.scf" (not ".txt") and then drag it to your Quick Launch bar.
You have now just restored your second favorite icon!
If you're a Windows 7 user you don't have to worry about accidentally deleting it – BECAUSE THERE ISN'T ONE (at least not literally). I don't know why Bill Gates and the crew at Microsoft® left it out of Windows 7 (and Windows 8 from what I hear) but there are two workarounds. The first and easiest is to use the small, unmarked, plain-colored, vertical rectangular icon in the extreme bottom right of the Windows 7 Taskbar that accomplishes the Show Desktop function. If you didn't know it was there – you do now. Mouse over and try it now. Click once to minimize all open windows and click again to restore them and this Tech Tip.
But if you're a CLNC® consultant running Windows 7 who's more comfortable with your Windows Start Menu, you can follow those same steps above to create a Show Desktop icon and pin it to your Start Menu. To show your Desktop you have to click Start, Show Desktop (two steps instead of one) or remember to mouse over the bottom-right corner of your screen. If there's a way to pin it back onto the Quick Launch bar I haven't found it yet.
Now we're all good to go – to our Desktops anyway.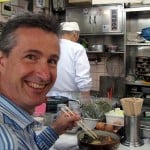 Keep on techin',
Tom
P.S. Comment and share your favorite Windows tip here!