I choose not to engage in stinking thinking. Thoughts like "I can't do this…I can't do that…I wish I could but I can't" never enter my mind nor do I say them. Positive thoughts and spoken words attract positive happenings in my life and in my CLNC® business, while negative thoughts and spoken words attract negative happenings in your life. I also choose not to listen to dream squashers – you know who they are – individuals who tell you that your ideas or goals are no good and that you are not going to succeed. "Dream squashers be gone" is my motto and it has served me well in my legal nurse consulting business.
I choose not to use nurses who are not CLNC consultants as subcontractors. A group that sings from the same page (same training) is strong and harmonious. As Certified Legal Nurse Consultants we were trained by the best (Vickie) so why look elsewhere for CLNC subcontractors?
I choose not to get in a rut in my CLNC business as I try new things along the way. Perhaps a new way of marketing my CLNC business is in order or overdue. Perhaps locating expert witnesses as part of my CLNC services to attorney-clients or revamping my newsletter makes sense at this time. Whatever it is, not becoming stagnant is important to me and my business. Other business owners might not look at things differently or take the time to step back and reflect on where they want to take their businesses, but not me. Even if you have setbacks along the way remember, Thomas Edison tried 10,000 ways to make his light bulb light before he hit the jackpot. When he was asked how it felt to fail 10,000 times, Edison replied that he did not fail 10,000 times, but rather found 10,000 ways in which his light bulb would not light. My vote is for the Edison way of looking at things. How do you go about looking at things in your life and in your CLNC business?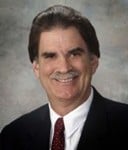 Guest Blogger Profile
Lawrence H. Frace, RN, CLNC is an independent CLNC consultant with more than 30 years of nursing experience. He is the founder of Spectrum Medical-Legal Consulting in central New Jersey and specializes in medical malpractice cases.
P.S. Comment if you would like to congratulate Larry on his CLNC® success and thank him for sharing how he engages in positive thinking.