According to the Western Hemisphere Travel Initiative (WHTI) U.S. citizens traveling by land or sea to Canada, Mexico, Bermuda or parts of the Caribbean must show proof of citizenship in the form of either a passport, passport card or WHTI-compliant document (government-issued photo ID and birth certificate) to get back into the good ole' USofA. So, if you're a Certified Legal Nurse Consultant who is considering a future NACLNC® Conference cruise, you'll need to have one of the above to get back to your home office once your ship comes in.
The easiest form of proof of citizenship is the government-issued photo ID and birth certificate copy. Just make sure you have a readable, notarized copy of your birth certificate. Next easiest might be the so-called U.S. Passport Card (good only for land/sea travel – not international air travel). This is handy if you live near a border crossing and travel on a regular basis to meet your attorney-clients in such exotic locales as Tijuana or Montreal.
If you're getting a new passport for traveling overseas as part of your CLNC® business, or just for fun, you might be surprised to know that you'll get one of the new e-passports. That's right, an e-passport. Beginning in August of 2007 the Department of State has issued only the new RFID chip-enabled e-passports.
What's the buzz about RFID? RFID chips are radio frequency identification devices that are really tiny microchips you can implant in an item of inventory, a pet or just about anything. Depending upon the strength of the chip, you can use it to identify and track inventory in and out of a building, the movement of chips around a casino (and betting patterns), the location of your French Poodle (not husbands yet – sorry Vickie) and today – an e-passport.
According to the U.S. Department of State, RFID chips in e-passports make them easier to scan and less prone to counterfeiting. Assuming (correctly) that even paranoids have real enemies, it is theoretically possible for the proverbial bad guy to walk through a crowd with a cell-phone-sized receiver and pick out the passport-carrying American citizens by the signals their passports give off (and not by their "I'm with Stupid" t-shirts and sneakers).
This frightened me until I learned of a solution – MobileEdge makes an ID Sentry Wallet that surrounds your passport in a cool-looking leather case that contains an imbedded shield that blocks the RFID signals from escaping. This turns you into just another face in the crowd. It does not interfere with the passport and so, is completely legal. By the way, the U.S. Passport Card also has an RFID chip embedded in it, but it comes with a shielded sleeve when you receive it from the government.
Paranoid? Maybe I should be. Safe? You bet I am. This ID Sentry Wallet is the best $30 travel accessory you can buy if you plan on going anywhere your passport can take you. Now, when you're cruising the markets in Bariloche, Bangkok or Bumthang you can stop walking backwards in fear someone will sneak up behind you.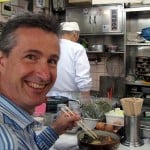 Keep on techin',
Tom