Okay – this week it's search engine tips. Google is by far the most popular search engine today. Many legal nurse consultants even use it as a verb ("No Billy I won't help you spell tuberous. You'll just have to Google it."). So, if you're going to use Google to the illogical exclusion of all other methods of searching, here's how:
Limit your searches to use exact phrase searches. Encase your search phrase in quotation marks "certified legal nurse consultant" to only get results that have that exact phrase somewhere in the document. If you leave off the quotation marks, your results will have the words from your phrase throughout the document, in order or not.
Limit your sources to limit your results. Any general search will turn up pages and pages of results from just about every top level domain (TLD) such as .com, .us, .edu, .etc. You'll have to sort through a lot of not-so-useful results to get to what you want. Limit your searches to just domains with the type of TLD site you want to search, such as "student loan sources site:gov." This will give you information from only .gov sites. This works if you know where you want to look for what you're looking for.
Limit your searches to specific file types. Lots of government documents are stored on the Web as PDFs. If your initial searches give you the confidence to search for a PDF (or any other form of document) type "filetype:PDF" after your search and your results will be limited to results in that document format.
Be wordy. Believe it or not I'll actually type a whole sentence into the search box (with and then without quotation marks). Just about every question you can ask has been asked and answered by someone and this will sometimes take you straight to the answer you need.
Keep tabs on yourself. I use the Firefox browser as an alternative to Internet Explorer 7, and when I do a search, I like to right-click a link and open it in a new tab. This allows me to do a better job of remembering which links I've opened without all the back-clicking and reduces the possibility that I'll lose my search results page and have to start over.
Don't look in all the same places. Use more than one search site for your searches. (You can Google a list of search sites or search engines.) I'm guilty of this myself. I tend to rely on one search site. But different sites return different results depending upon how they index their information. Your best bet when searching is to keep open multiple tabs in your Firefox or IE7+ browsers and use a different search engine in each for the same information. You'll be surprised by the varied results.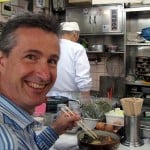 Keep on techin',