Today is a good day for Certified Legal Nurse Consultants to be reading my Tech Tip in real time – because if you don't, next Tuesday you might not be able to access the Internet. On July 9th the Federal Bureau of Investigation is going to take the drastic step of preventing computers infected with the so-called "DNS Changer" Trojan horse from accessing the Internet. Whoa dudes and dudettes! In short, on Monday July 9th, 2012 if your computer is infected with DNS Changer you won't be able to connect to the Internet until the issue is repaired.
Here's another warning: if you're one of my CLNC® amigos who is a Mac® user, don't roll your eyes and think, "this is why I don't use a real computer." DNS Changer can infect both Windows® and Mac boxes, so every Certified Legal Nurse Consultant is at risk. DNS Changer is a relatively old bit of malware that has infected millions of computers and manifests by redirecting your web browser requests to crooked websites. It may also keep your anti-virus software from self-updating and maybe even running. Your computer could be infected without you knowing it.
If you have pretty good anti-virus software that's really up-to-date and scans your system on a regular basis (like once a week) you're probably safe. But, as a precaution, if you want to be able to keep on reading Vickie's Legal Nurse Consulting Blog (and my Tech Tips) on July 10th, here are two steps to take:
Determine whether or not any computer you own and/or use is infected with DNS Changer by visiting DNS Changer Check-Up. You'll discover the answer right away. If you get a "page not found" error it's because everyone else in the world is checking their status at the same time as you. You can either check back later or try one of the alternate links found here. If you're not infected you can skip the rest of this blog and go back to reading past Tech Tips. But, if your computer is infected, do not pass "Go" and instead proceed to step 2 below.
Visit Avira's website to download and run their free DNS Changer Repair Tool. This will remove any DNS Changer infection from your computer. Then, if you want to be compulsive you can repeat step 1; just be sure DNS Changer really has been removed.
Remember to do this for every computer in your household. You may not have infected your legal nurse consulting business's computer but one of your children (or spouse) may have inadvertently infected their personal computer. Do this today and I'll see you next week (I hope!).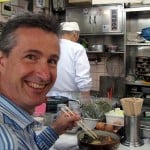 Keep on Techin',
Tom
P.S. Comment and share the results of your DNS Changer inspection.