Google is by far the most popular search engine for everyone including Certified Legal Nurse Consultants. Everyone that is, except true Internet professionals. The more time you spend searching the Internet, the more quickly you'll learn that you shouldn't rely solely upon Google.
Search results can vary according to the day you search; some results available today may not be tomorrow. Search results also vary by search engine. Bing and Yahoo! offer great alternatives for searching if you're not satisfied with your results from Google. Additionally there are meta-search engines like Dogpile that search other search engines (way cool!) further enhancing your chances of finding the information you need. Finally, for my most daring CLNC® amigos, there's the experimental, computational knowledge engine WolframAlpha®. All of these will show you what you're missing by searching on Google only.
Smart CLNC® consultants know that whichever search engine they choose – they don't use it exclusively. It's a Wild World Wide Web out there so use all the resources at your disposal to search it.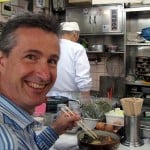 Keep on Techin',
Tom
P.S. Comment and share your favorite search engine or search tips.