I'm sure that almost every Certified Legal Nurse Consultant either gave or received a new electronic gadget of some type for the holidays. It may be an iPad® or other tablet, a new iPhone® or even a Surface® tablet. But once the fun starts and you've learned how to use it, it's almost guaranteed to run short on power.
Charging tablets like our iPads can take forever and often require specialized chargers. Here are two tips I've learned:
Always charge your device with the charger that came with it. Manufacturers will provide an optimally tuned device. They want you up and running and happy with your device.
Don't always charge your device with the charger that came with it. Normally I charge my iPhone 4 at my desk using one of my laptop's USB ports. But it charges much faster if I charge it from the iPhone wall charger and even faster from my iPad 2's wall charger. Why? Because the USB port delivers about half the output of the iPhone wall charger and the iPad wall charger delivers about twice the output of the iPhone wall charger.
At the end of the day, all a CLNC® consultant wants is their device to be charged. The most powerful charger will deliver the fastest charge so you can get back to your legal nurse consulting business. One caveat though, before you connect any "odd" charger, search online for advice about your particular device so that you don't end up damaging it by "supercharging" or "overcharging" it. After all, you don't want it bursting into flames… or worse.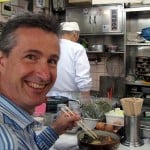 Keep on techin',
Tom
P.S. Comment and share your favorite charging tip.