With the July 4th holiday approaching, it's natural to celebrate the freedoms that we experience as Americans. While the freedoms we enjoy are a gift of being born in the USA, certain freedoms (even here in the land of the free) have to be earned – an indisputable truth our founding fathers proclaimed.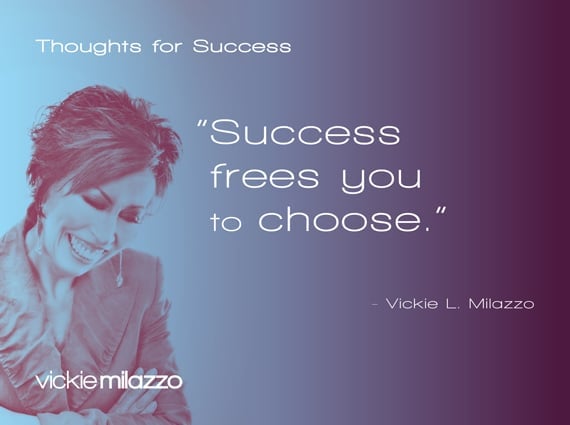 One of my favorite freedoms is the right to choose how to live my life. The success we achieve drives this freedom of choice in many ways.
Lin-Manuel Miranda, the author/composer/lead actor of the amazingly successful and ground-breaking, musical "Hamilton" (about one of our founding fathers), is one example. Miranda's success is everywhere – a record 16 Tony® Award nominations with 11 wins, television appearances on news and talk shows and features in national publications such as The New York Times.
Before the runaway success of #Hamilton, Miranda had another successful musical, In the Heights (which he also starred in) that was nominated for 13 Tony Awards (winning four). That success freed him to choose BIG for his next career move. While on vacation from In the Heights, he read the book Alexander Hamilton and conceived the idea of a hip-hop musical based on Hamilton's life. He was so convinced of the power of his idea that after being invited to the White House Poetry Jam, he abandoned his planned reading, and instead performed the first song from what he then called The Hamilton Mixtape. That song was a rough version of what would eventually become the musical Hamilton's opening number. President Obama and the First Lady loved it.
I saw Hamilton on Broadway, shortly after its opening with the original cast. Miranda and his crew deserve every award and bit of acclaim they have received. I loved it so much I'll definitely see it again and I encourage you to see it too. If you can't get to see it, buy the original cast recording or the book, Hamilton: The Revolution to get a taste of what you missed.
Miranda's success with Hamilton exponentially expanded his future choices. I can't wait to see what he conceives next – I'm sure it will be stunning.
Success frees you to choose. If you're feeling less than appreciated in your RN job at the hospital, legal nurse consulting provides perks and freedoms you might not even know are attainable. As your legal nurse consultant jobs become more plentiful and your CLNC career becomes more successful you'll have even more freedom to choose when and how you consult with attorneys, the types of cases you consult on and the attorneys you work with. That's more icing on top of the freedoms to choose how to spend holidays, when to vacation and what your day looks like.
Your legal nurse consulting success may not win you a Tony Award, but it will set you free. God bless America and God bless our freedoms – those in the Constitution and those personal to each of us.
Success Is Yours!
P.S. Comment and share how success as a Certified Legal Nurse Consultant has freed you to choose.
Save
Save
Save
Save
Save
Save