Have you ever met someone more successful than you and wondered if they've just been dealt a better hand at the poker table of life? It's possible, but unlikely. Successful people are simply more accomplished at playing the hand they're dealt – even the bad ones.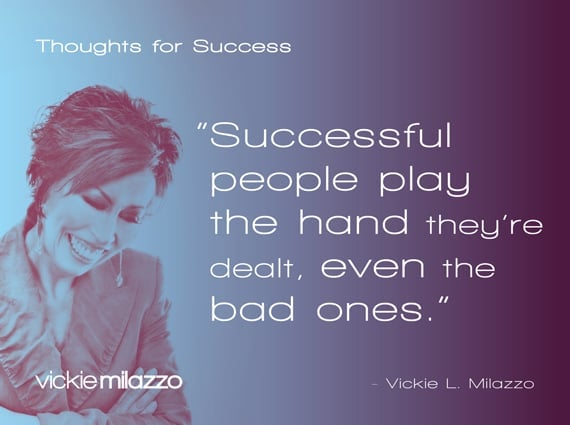 Study any successful person and you'll quickly learn she's had to navigate rough waters along the success journey. In fact, facing big challenges is the perfect training for not being easily deterred by bad hands.
Your choice is simple: Either play the cards you're dealt or fold and wait for a better hand. Either way, the cards in your hand are the only cards you've got. Personally, I'd rather be in the game than sitting at the table waiting for the perfect hand that may never come.
In life, as in cards, the more you play, the better you'll get and the more chances you'll have to finally draw those pocket aces you want. And if you don't get them, well, sometimes you simply have to bluff your way to the top. It's amazing how far a pair of deuces can get you. LOL!
Success Is Yours!
P.S. Comment and share how you've successfully played a bad hand you were dealt.