Two years into her business as a Certified Legal Nurse Consultant, Michelle Neal, RN, BSN, CLNC shares how she did it while raising 2-year-old twin daughters. I'm a twin myself and Mom always said Vince and I were double trouble, so I was intrigued to learn how Michelle pulled this off. In this video she describes three strategies she executed faithfully: focus, confidence and commitment.
Michelle adds, "I went into my legal nurse consulting business knowing I was going to do this no matter what. I had twins and knew that could put a damper on it. I could make excuses, but excuses are not going to make success. I'm going to be focused and confident, no matter what. I planned, organized and committed to put time aside every night to work on my CLNC business."
And work she did. After passing the CLNC Certification Exam Michelle posted about her new legal nurse consulting business on Facebook® and a high school friend who was a personal injury (P.I.) attorney immediately responded and hired her for a case. From that first P.I. case with her first attorney-client, she obtained a letter of recommendation which she used to gain additional attorney-clients. Watch as Michelle reveals how she followed just a few of the marketing strategies recommended by LegalNurse.com in the CLNC Certification Program and how each one paid off for her.
Today Michelle works with a variety of cases including personal injury and medical malpractice and provides her attorney-clients with screenings, comprehensive reports, deposition questions, requests for production and more.
After we turned off the video camera, Michelle boldly declared, "If I can build a successful legal nurse consulting business while raising 2-year-old twin daughters, there is no earthly excuse for anyone to not be able to do the same."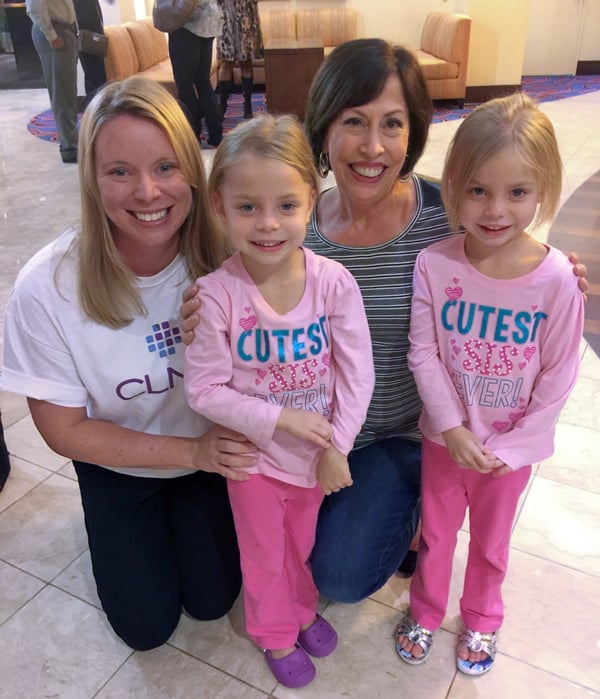 Michelle and her gorgeous twins.
Congratulations Michelle for conquering not just one, but a set of "twin 🙂 " obstacles.
P.S. Comment here to congratulate Michelle on her CLNC success.
P.P.S. Read more CLNC Success Stories here and send your CLNC Success Story to [email protected].