I admit it – I lose things. I lose my car keys. I lose my wallet. I lose documents. I even lost Vickie once in Hong Kong (not a good thing). But now thanks to an app called TurboScan, I will never lose another document (Vickie and the rest I'll just have to keep better track of). I've long wanted a super-portable scanner and photographing documents with my iPhone® just didn't do the trick. Sure that worked for things like dry-cleaning or shoe-repair tickets but not for receipts and important documents.
Today, I'm happy to let Certified Legal Nurse Consultants know that TurboScan by Piksoft handily fills that need. It's available for both Android and iOS, and for just a few dollars is an absolute bargain. The TurboScan app gives you the ability to scan any document using your smartphone's camera. You simply photograph the important document, one page at a time and TurboScan turns each photo into a PDF (or jpg if you choose) that you can easily upload to the Cloud, Dropbox, email to yourself or to an attorney-client. The app has color correction and automatic cropping to ensure you get only the document that you want. If you need it, the SureScan mode takes three pictures and combines them into one to guarantee the highest quality scan available.
The possibilities are endless. Wherever you are with your smartphone, you have the capability of scanning a textbook or journal article that's part of your legal nurse consulting research, a legal document or any other printed material that you will need at a later date. Take it from me, this is one productivity app you'll not want to be without.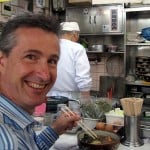 Keep on Techin',
Tom
P.S. Comment and share your favorite business productivity app.