Yesterday I had to make a call to tech support for a product I was using that was giving me some issues. After about 40 minutes I worked my way through all the voicemail menus and, probably accidentally, reached a live person. My "techie," Bernard was "interested in genuinely helping me with the resolution of my issue" so I briefly described my problem and he asked me "to be waiting one minute" while he searched for the solution.
Being a guy, and capable of multi-tasking as long as I do one thing at a time, I started searching online for a solution myself. When Bernie took me off hold I swear I could hear him typing and assumed he was searching their online knowledge base. Instead he told me that my problem could probably be solved in one of three ways. When he read them to me I realized we were both probably looking at the same Google® search results. In other words, he was probably searching the Internet just like I was. To his and Google's credit, the recommended solution worked. The best part was that by having it on my screen I was easily able to follow along when making the changes to the software set up.
Last week I was getting my car repaired and inspected. I mentioned to the repair shop manager that the remote control key was so weak that I practically had to be inside the car before the key would unlock it. Neither of us could figure out how to pry the key open in order to change the D-cell batteries, so he suggested we walk over to the body shop and check with them.
Once there, the service guy asked what year and model my car was; after I told him, he typed something on a keyboard and asked me for the key. Next thing I knew, it was open and he was putting a new battery in. When I asked him how he got it so quickly, he swung his monitor around and showed me that he had Googled the key and found a number of YouTube videos showing exactly how to open it.
I've always jokingly said, "If you don't believe me, Google it yourself" but now I'm a true believer. Anytime I have an issue, whether it's software, hardware or automotive, the Internet is the first place I look − even before making that call to tech support.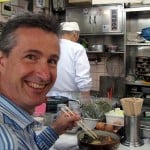 Keep on techin',
Tom
P.S. Comment here and share the most surprising resource you've found on the Internet.