I was complaining to a friend about the life of my iPhone® battery. My friend, who's not normally on the cutting edge of tech, told me that I had too many background apps running and that I should shut them all down. This (finger waving in the air) he claimed was adversely affecting my battery life.
To demonstrate, he took my iPhone, tapped the home button twice and then swiped up once from the bottom. Suddenly there were previews of every app I'd recently used, never used and probably don't even have on my iPhone. Next he swiped up on each "open" app – effectively closing each particular app. "Force quitting" apps, as this is known, was something he does on a regular basis to extend his battery life.
Perhaps you've heard this from other legal nurse consultant iPhone users. Guess what though? Swiping up on an open app is the best way for a Certified Legal Nurse Consultant to shut down a buggy, broken or stuck app. But it won't save battery life. In fact, it reduces battery life.
"How could this be Thomas Tech Tipper?" you may ask, "Isn't it smart to shut down apps that are running in the background and stop them from sucking the life out of my battery?" It's not and they're not. According to Apple, apps don' really run in the background. Instead they're "frozen" or in "standby" and use up very little memory or power. That way, when you go to use that app it doesn't have to start from scratch and simply resumes where you left it making multitasking in your legal nurse consultant business easier than ever.
But if you force quit an app, the next time you go to use that you have to start that app from scratch which will reduce your battery life because that app needs much more power to start and load. Even worse, it will slow you down as you wait for that app to load
So, there you have the truth for CLNC® consultants who use iPhones to stay in touch with CLNC subcontractors and attorney-clients. Swiping up to close apps won't save battery power.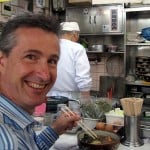 Keep on Techin',
Tom
P.S. Comment and share your favorite iPhone or Android® phone urban legend.