Recently we updated the operating systems on our iPhones®. As with any OS (or iOS) upgrade we immediately experienced the same thing that most Certified Legal Nurse Consultants do when upgrading, we had issues. Significantly though, this time they were fewer than usual, just display size, notifications and having to update just about every other app on the phone. All things considered, it wasn't too bad.
But then, something unusual happened – Vickie and I both started experiencing rapid battery power drains. When you're mobile, free-ranging and working on your legal nurse consultant jobs or communicating with your attorney-clients, that battery is your lifeline. To have it run out within five hours was pretty upsetting.
Delving into the issue a little deeper, I found that during the upgrade process all, and I do mean all, our apps were mysteriously set to "run in the background" – that means when we weren't using an app, it was still checking for updates, new email, calendar changes, etc. The logical first step we took was to go into the settings and switch "off" all the apps except those that are absolutely necessary (not too many).
Next we went into the privacy settings to see which apps were running "location services" while not using the app. Again, that was just about all of the updated apps. We immediately switched them off so that location services are only on while we are actively using an app. Logically, if you're a legal nurse consultant using OpenTable®, Waze® or Google Maps you want it to be pertinent to your location (especially if it's lunchtime or you're driving to an attorney-client interview). But camera, calendar, email, Facebook and many, many others are simply unnecessary overkill and aren't pertinent to your legal nurse consultant business or even your RN job at the hospital.
After turning off the location services settings we did a hard reboot on both our phones and voila, things were back to normal. Any apps running in the background or running location services will cause severe battery leaks/seepage and cause you to rapidly run out of "juice" when you need it the most.
Even more insidious is the "automatic updating" of phone apps. If you have this service enabled, each time an update for a particular app is released, your phone will try to download and install each updated app. If, during that process you move into a garage, theatre or indoor location with poor reception, the phone will keep trying to update and download the app(s). And it will continue to do so until it either completes the process or your battery runs out so turn that off too.
Moral of the story – the companies that write and distribute apps have a vested interest in making sure you're using them 24/7. My advice to Certified Legal Nurse Consultants is to update your phone's apps on a weekly basis (for security) but then to check your phone's settings afterwards to make sure that any app updates haven't overly updated themselves to give away too much data and use too much of your phone's battery.
Your phone is a vital lifeline and asset for your legal nurse consulting business. Keep it updated, keep it secure and remember to check the settings after every update.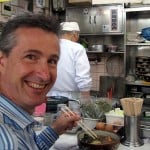 Keep on Techin',
Tom
P.S. Comment and share how often you update your phone's operating system and apps.