Everyone likes to keep their phones handy at all times. Whether it's in your pocket, purse, cup holder in your car or on your desk. Communication is key for all Certified Legal Nurse Consultants, their legal nurse consulting subcontractors and attorney-clients.
But while I've used devices such as the Crabble, Beam Electronics Universal Smartphone Car Air Vent Mount and admired the Bobine Flex, no phone cradle blew me away until today.
That new phone stand is the Lamicall phone stand. This stand is sleek, cool and way more stylish than any other phone stand I've seen.
The Lamicall stand comes in a variety of models to fit just about any phone. What especially intrigues me is the way they've allowed for the charger cable – not something you see on every phone cradle or stand.
I recently cleaned off my desk to allow room for more work and plan on adding one of these to both my desk (now that I've got space) and Vickie's. I recommend every Certified Legal Nurse Consultant also have one of these on their desk. And if you want to expand, they also make tablet stands. If you fish about on the web you can find them in black and silver.
What's cool is cool, and this is cool. You can trust me on that. Get one today.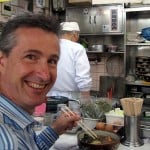 Keep on Techin',
Tom
P.S. Comment and share your favorite phone cradle or other desktop accessory.