More and more I've been abandoning my car's GPS-based navigation system and using my iPhone and Google Maps. I love Google Maps because it checks your route against traffic and usually (but not always) takes me the fastest way to where I'm going. Something else I like about it is the simplicity. I type in the name of my destination and it automatically locates the address – much easier than typing in the address (reverse logic) in the car. Even more annoying, my car always picks the most direct route, and since it's not Internet connected, that means I'm going to sit in a lot of traffic with everyone else whose car does the same.
While my car's guidance presents itself in a variety of ways, all of which are convenient, using an iPhone presents its own issues. Still though, the most useful guidance is the iPhone and the problem I'm running into is that I do need to look at my iPhone to see the route preview. If I don't I have to deal with that annoying voice that says "Turn right 100 yards behind you" or, my favorite instruction when on the I-10 freeway, "When possible make a legal U-turn."
To catch the quick glimpse of my iPhone necessary to keep me on track means taking my Starbucks® tea out of the cup holder and sticking the iPhone in there so that it's closer to my eye-line. Not the best solution. My only other option is to put the iPhone down in the center console, which would mean having to take my eyes off the road to look down. Obviously not an ideal situation in Houston traffic (unless you're parked on Hwy 290 West with everyone else heading to the 'burbs) at the end of the day.
I'm sure that almost all Certified Legal Nurse Consultants must experience some variation of this problem. So, here's the solution for all my CLNC® amigos. After procrastinating for nearly forever I finally found a smartphone car mount I like and can recommend. It's the Beam Electronics Universal Smartphone Car Air Vent Mount Holder. I've grown to love this and even purchased a second one that I keep in my computer bag for when I travel. It keeps my windshield clear of obstructions and securely anchors the iPhone, even during my off-road travels when I'm running over curbs.
If you're looking for a good dependable smartphone mount for your car, truck or SUV you can't go wrong with this one.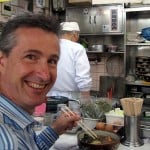 Keep on Techin',
Tom
P.S. Comment and share what smartphone mount you use when navigating to legal nurse consultant jobs.