For 33 years I've been in the legal nurse consulting business. From that business I've had all kinds of side businesses along the way. There are days I've played nurse, doctor, attorney, mediator, guidance counselor and even psychiatrist.
Whether it's a Certified Legal Nurse Consultant who's had an issue with an attorney or a LegalNurse.com staff member who's having an issue with a colleague, manager or simply their job, I have found this Thought for Success to be a common refrain: Never make important decisions on a bad day or an empty stomach.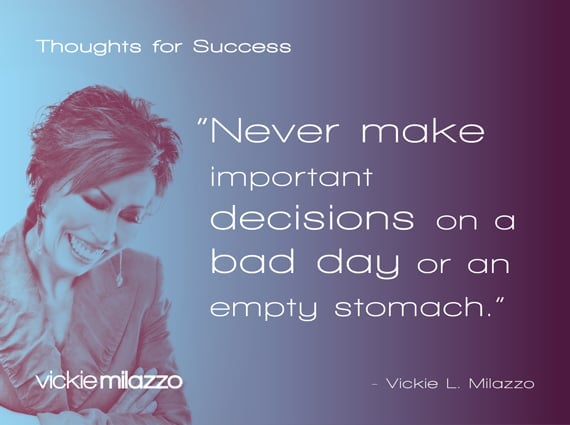 People who make decisions on a bad day have a high probability of regretting the impact of such decisions. Before making important decisions first strive to replace a stressed, fearful or angry state of mind with a balanced, confident and happy one.
That's the mindset needed to make the strong decisions successful Certified Legal Nurse Consultants are called upon to make every day. As to the empty stomach – that one's self-explanatory.
I'm Just Sayin'
P.S. Comment and share how you get yourself ready to make important decisions as a Certified Legal Nurse Consultant.