I have a love-hate relationship with my iPad. Since I travel with a computer my iPad isn't always there for me. But because I travel with a computer, Microsoft Office is always there for me. That means I can open, edit, update and alter every sort of Office document, spreadsheet or presentation wherever and whenever I want. The few times I'm traveling with just my iPad, I'm pretty much restricted to viewing Word documents.
That means that few's the time I've wished for a full-fledged version of Office for my iPad – but alas there wasn't one. I've tried and live with work-arounds like the free version of Documents To Go® and the paid version of QuickOffice® and they worked, but not as fully as I wished.
In response to my singular wishes, Microsoft has finally created a version of Office strictly for the iOS family of handhelds. It isn't really a suite, but is composed of three separate apps – Word, Excel and PowerPoint. Reviews are good and if you're a hardcore CLNC® consultant who uses Word you'll recognize the interface as very familiar, but without the familiar keyboard shortcuts. On the other hand despite having no Office shortcuts, the usual iOS shortcuts remain intact.
But Office for iPad has limitations. In other words, if you're using the free version you can open and read documents created by you or someone else – but in order to create or edit a document you'll need to get an Office 365 subscription which includes access to Microsoft's OneDrive® cloud storage. Prices vary between business plans and personal plans so shop carefully.
My recommendation – if you use Office a lot and use your iPad a lot – go ahead and get a paid subscription and take full advantage of the power you'll have to create and edit on the go. If you're only reading documents on your iPad – stay with the work-around you know and understand.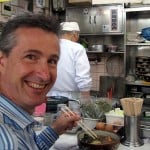 Keep on Techin',
Tom
P.S. Comment and share whether or not you'll upgrade to Office for iPad.