According to Bloomberg Business, the top selling iPad2® app over the Christmas holidays wasn't Angry Birds, it was an app named Quickoffice. What's Quickoffice have to do with Certified Legal Nurse Consultants? Easy – with more and more of my CLNC® amigos turning to the iPad as an auxiliary device, you need a way to view and edit your Microsoft® Office documents and Quickoffice provides it.
Using Quickoffice, CLNC® consultants and their attorney-clients can open and edit documents from Word, Excel and PowerPoint. It also has the ability to store, access and share documents in the "cloud" with a functioning tie to Dropbox®. At $19.99 it's not a cheap app, but then your business isn't cheap and neither is the cost of missing a deadline because you couldn't get back to your computer to correct a document.
When I get my iPad3® this spring (hint, hint), Quickoffice will be one of the first apps I install and I recommend you do the same. It's also available for phones but who really wants to edit documents on a phone? I sure don't and I'll bet you don't either.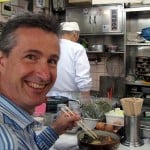 Keep on Techin',
Tom
P.S. Comment and share your favorite iPad app here.