The tablet market keeps growing wider and broader with more and more entries. It's becoming harder and harder to take the leap of faith into the market and choose any one. Many Certified Legal Nurse Consultants have asked me whether they should buy a tablet or a computer, and if so, which one. To be clear upfront – tablets are computers just like smartphones are computers. They're just smaller computers with limited (for now) capabilities.
So, when it comes to buying, my advice is pretty clear cut. If you're only going to be consuming media or data, a tablet is the perfect choice. They're great for reading, being on the Internet, keeping up with email and/or watching/downloading video. If that's all you want or plan to do with your life, you're a perfect candidate for a tablet. It could replace your laptop for overnight trips and simple projects. As of today, April 30, 2013, a tablet isn't a be-all-does-all-replacement. The way things are moving forward though, one maybe tomorrow or shortly in the future.
But for now, if you're creating data, such as writing reports as a Certified Legal Nurse Consultant, then you'll need a real computer with a keyboard (Yes, I know tablets have add-on keypads) and the ability to do some complex data formatting. On a computer they're a whole lot easier to create and manipulate (with the mouse and all).
But it's not really that simple. It does often pay to be trilingual – just to keep up. Vickie is a great example. She has an iPhone®, iPad® and she travels with a laptop. The smartphone allows her to check email and stay in touch with the office while on-the-go. The tablet allows her to do the same but with a greater range for viewing, proofing and digesting documents and attachments – something hard to do on a 4"x 2" handset. The laptop, let's just say it's her office-on-the-go – when she's in one place long enough to set it up.
So, my CLNC® amigos, the choice is clear. What you need depends upon what you do, where you go, how often you go and how long you stay gone. I'm opting for the smartphone and laptop. I'll forgo the tablet – at least until my next 9 hour flight (then we can talk).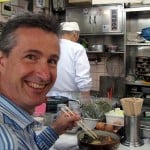 Keep on techin',
Tom
P.S. Comment here and share what type(s) of device(s) are in your future and why.