Most of my loyal Certified Legal Nurse Consultant readers know I can be a bit old school when it comes to new things. I've loved my BlueAnt® earpiece and even stocked up on them when they were discontinued. Finally the day came when my last one crapped out and after a week of using the old Apple® wired headset I was forced to step up and move into the present day.
That meant popping into my closest Apple store and buying a set of AirPods®. Yes they're small; yes they're going to be easy to lose but darn are they fun! If you haven't seen someone wearing these on the street they're small, sort of teardrop-shaped, extremely comfortable and even stick in my ears. You could wear these all day. They supposedly will give you up to 5 hours of listening or 2 hours of talk time and they recharge when you stick them back in their case for only 15 minutes. They are so comfortable you could easily forget you have them stuck in your ears when you walk into an attorney-client's office.
The sound quality is pretty good for making phone calls or listening to music while strolling through an airport, street or shopping mall. When you pull one out of your ear to answer a question any music you're listening to pauses automatically and restarts when you replace them.
All in all, this is a terrific bit of Apple technology and any Certified Legal Nurse Consultant would do well to have these in your hands-free arsenal. Once you get yourself a set read this article to learn how to get even more out of them for your legal nurse consulting business.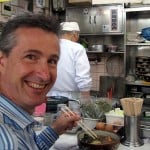 Keep on Techin',
Tom
P.S. Comment here and share what wireless headset you're using and why.