The morning of my birthday I woke up in a villa on stilts over the water in the Maldives. The portion of the Indian Ocean that extended into the safe harbor of our atoll was a brilliant azure blue. It was a storybook location. I sipped my two cups of healthy green tea, simply sitting and listening to the whisper of the waves beneath me, then climbed down into the hammock that had been beckoning. Soon I was in a state of bliss.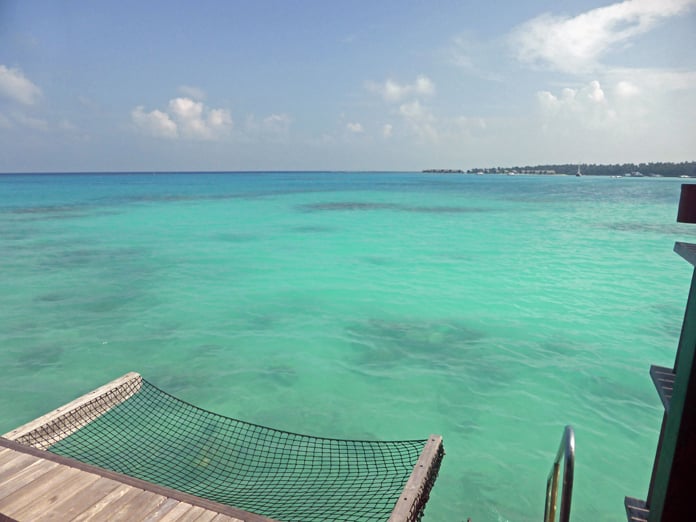 Click the photo to see more beauty in the Maldives
The night before, when we climbed off the boat from the airport and checked into the hotel, there were all sorts of activities to sign up for. My first response was that I wanted to do them all. But prudently all we signed up for was a 10:00pm dinner reservation. Those of you that know me well know that a 10:00pm dinner is quite a stretch – at home I'm usually into a REM cycle, not a glass of red wine, at 10:00pm.
The next morning, my birthday, I woke up and thought to myself, "This is a rest stop. I just came off the hardest hike I've done since trekking in the Himalayas and there's no need to push today. It's a good day to let my body restore." The best thing to do was nothing. And the view from my porch hammock, suspended over that crystal blue water, confirmed the wisdom of my decision.
All too soon (probably two hours later), coffee and breakfast was delivered. Over coffee, Tom asked me – what's this year look like to you? My answer was simple – to be kinder and gentler to myself. While I do start each day with restorative tea time, the rest of my day is non-stop and at the end, my brain does not turn off easily.
While it was effortless to take it easy in the Maldives, where my only decision was whether to wear my robe all day or get dressed, I wanted to be able to take that answer home with me. The question becomes "How to do that?"
The answer isn't easy – it's one of the hardest things for an ambitious CLNC consultant to do – to turn off the CLNC business and turn on the relaxation. All Certified Legal Nurse Consultants know the difficulty of forcing that nagging case out of their mind or waking up in the middle of the night to wrestle with a difficult issue in a case. But our mental sanity depends on learning how to do just that.
My path has been easier since I was in the Maldives. When it's time for me to turn off, I'm going to mentally slip into my hammock, enjoy the smell of the salt air and the sound of the waves gently rolling under me. That will do it for me. How about for you? How will you restore yourself each day?
I'm Just Askin'
P.S. Comment and share where you'll go when it's time to mentally retreat and restore.