I found myself standing in the gas chamber at Auschwitz contemplating how I arrived there. My father's family is Sicilian – 100%. Picture a 13-year-old boy holding his uncle's hand, gazing at the Statue of Liberty from the deck of a passenger liner in the early 1900s and that's Papa Milazzo, my grandfather. My family name, Milazzo, comes from a village in Sicily. My grandparents knew each other as children before leaving Sicily and lucky, against all odds, managed to find each other and marry in the U.S.
My mother was 100% Louisiana. She grew up in Tickfaw and met my dad in New Orleans. Dad had just returned from fighting the Japanese at places like Angaur and Peleliu in the Pacific during World War II – fattened up by the Army to a wholesome 125 pounds. She immediately married him and soon here I was (along with my twin brother and older sister).
Tom's family has a completely different background. His father's parents are Polish, both coming from the Krakow area – about an hour north of Oscwiezm, the Polish name for Auschwitz. Tom and I both have vivid memories of our grandparents speaking in Polish or Italian when they didn't want the grandkids to understand them. Tom's mother's side is a little more complicated – and the reason we were here. Tom's maternal grandfather was Scottish (right down to the tartan). His grandmother was middle-European Jewish. In the 1930s when this zaftig woman married the Scotsman, out of her faith and against her family's wishes, her family simply said a Kaddish (prayer for the dead) and started setting one less chair at the seder table on Passover. Sixty years later only two members of her family would speak to her. (Aren't family grudges stupid?) One of those two was Tom's Great-Aunt Fannie and his Great-Uncle Otto.
Tom remembers that Otto still had the tattooed numbers on his arm from Auschwitz. He'd been collected from his home, transported, numbered and then, luckily, transferred to a work camp. Fannie found Otto there and she managed to bribe his way out. Somehow the two worked their way through unfriendly, Nazi-occupied Europe and to the U.S. Many others from the family weren't so lucky and never saw the outside of the iron-gate with the "Arbeit macht frei" (Work makes one free) motto outside Auschwitz again.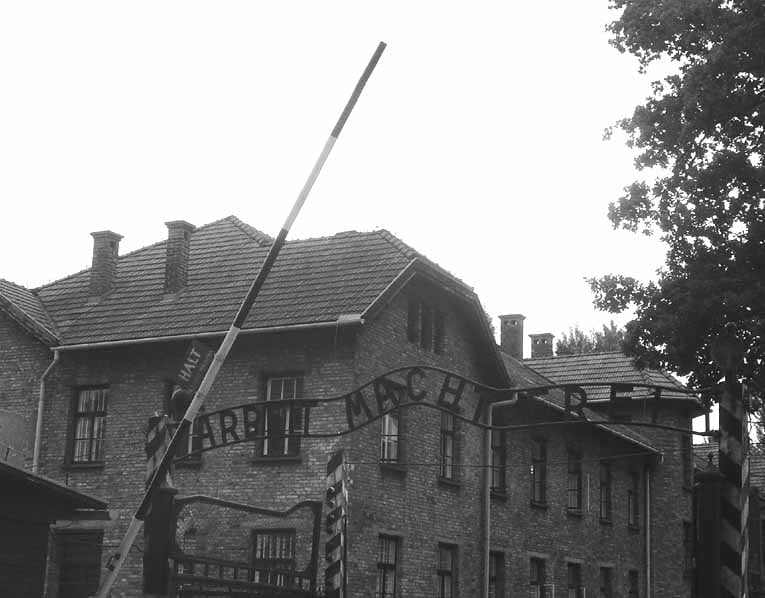 Main Gate to Auschwitz
So what does a gas chamber and the Holocaust have to do with legal nurse consulting? It may seem like a stretch, but it simply comes down to living with integrity. The other day I was mentoring a legal nurse consultant who faced a difficult choice. An attorney-client who gave her a substantial amount of business gave her an ultimatum: stop working with certain competing attorneys or risk losing his business. If she gave in to his demand, she would keep his business – but at the cost of losing her integrity. After all, if she gave into that demand, what would his next demand be?
Integrity-based decisions are not always easy. After standing in the gas chamber at Auschwitz and in the women's barracks at the adjacent camp of Birkenau, I've seen what can happen when a person's integrity is broken. If you think about it, all the things we treasure, our family, our possessions, our success, our dignity and our individuality can all be stripped from us. Standing in such a horrific place, I realized how easily we can lose everything – everything except our personal integrity.
If you've ever read Viktor Frankl
or talked with a Holocaust survivor, you know that each day in the midst of unimaginable cruelty, the Holocaust victims had to decide how to treat others and handle themselves with integrity. Without integrity, even living through those conditions would not guarantee surviving the memories afterward. I couldn't help wondering how my own integrity would hold out in that situation.
The choices we make determine whether we live a free life or a life imprisoned, and I'm not talking about a physical jail cell. No one would voluntarily imprison herself and be her own warden, yet every time we breach integrity we sentence ourselves to a mental jail. This all came to mind while speaking with this nurse who, to me, had a much simpler and easier choice than anyone ever faced in a concentration camp.
Ironically, the very thought that "work makes one free" was what was troubling this legal nurse consultant. She simply needed to make a choice to keep or break her integrity. I couldn't make her decision for her, but did encourage her to honor her integrity. When I hung up the phone she was still undecided and still troubled.
About a month later I received a call from her. She made the choice to be true to herself and to what she wanted for her CLNC® business. She was now happier, relaxed and successful on her own terms.
Temptations abound in not only the business world, but also in our personal lives. No matter how complex a decision appears on the surface, when stripped down to basics, I tell people it's simple: do what's right, not what's easy or most appealing. Remember, no matter what choices you make in your life – they should all be integrity-based. Integrity has the final say in whether we will rise or decline, be whole or broken. When uncompromising integrity is our guide, then our personal and CLNC® success is authentic.
Here's to your authentic CLNC® success.
Success Is Inside!
P.S. Please comment and share your experiences with integrity-challenging decisions.
Save