Benefits of Legal Nurse Consultant Certification
CLNC® Certification attests to the attainment of specialized knowledge beyond the nursing degree. By giving registered nurses a way to demonstrate such knowledge, legal nurse consultant certification helps to maintain and promote quality nursing practice. Promoting quality practice through legal nurse consultant certification benefits not only the individual nurse and the nursing profession, but the public as well.
The CLNC® Certification Program was an incredible experience. Becoming a CLNC® consultant has made so many dreams come true for me.
Sharon Kennel
RNC, BHA, CLNC
Indiana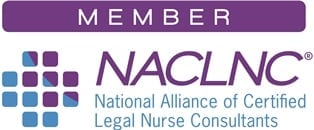 The Benefits of Becoming a Certified Legal Nurse Consultant Include:
Mastering a complex body of specialized knowledge while preparing to practice as a legal nurse consultant.
Achieving national recognition as a highly trained Certified Legal Nurse Consultant, thus enhancing your credibility with attorneys and other clients and prospects.
Giving yourself a competitive edge over other consultants with your demonstrated level of proficiency and commitment to continuing education.
Becoming a member of the largest legal nurse consulting association in the nation, the National Alliance of Certified Legal Nurse Consultants (NACLNC®).
Promoting excellence and standardization of the principles and practices of legal nurse consulting, thus supporting the field as a distinct professional nursing specialty.
Receiving free coaching and mentoring from the CLNC Mentors for as long as you remain certified.
CLNC Certification can lead to expanded career opportunities and advancement within the specialty of legal nurse consulting. Institute graduates consult with some of the most prestigious law firms in the country.
Learn How You Can Earn Up to $150/hr as a CLNC® Consultant