Legal Nurse Consultant Certification Core Curriculum
LegalNurse.com's legal nurse consulting certification core curriculum is the most advanced program for registered nurses in the industry. The 799-pages of the Core Curriculum for Legal Nurse Consulting® textbook set the standard for comprehensive, professional training in the legal nurse consulting field.
Developed and taught by the pioneer of legal nurse consulting, LegalNurse.com's CLNC® Certification Program covers seventeen extensive modules. You can read our entire certification curriculum below and we invite you to preview Module 1: The Role of the Certified Legal Nurse Consultant for free here.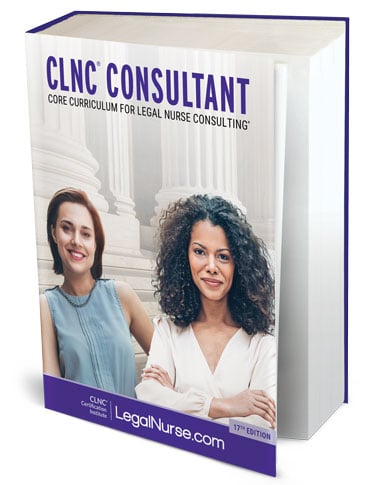 I liked the idea that I was not in this by myself. Everything you need is addressed. It's all there for you, and you can go over and over it again. It's not like going to a university where you take a number, take a seat. This is a family. This is a home.
Dale Barnes
RN, MSN, CLNC
California
Below is the complete overview of the most comprehensive legal nurse consulting curriculum in the industry:
Module 1 – The Role of the Certified Legal Nurse Consultant
Seven Types of Cases on Which Certified Legal Nurse Consultants Are Qualified to Consult
Distinctions Between the Testifying Expert and the Consulting Expert
Scope of Practice of the CLNC Consultant
Module 2 – The Litigation Process
The Pre-Litigation Phase of a Lawsuit
Notice Letters
Filing the Suit
Motions and Pretrial Hearings
Discovery
Pretrial Conference
Mock Trial
Peace Negotiations – ADR
Trial Preparation
Trial
Cleaning Up Afterwards – Posttrial Maneuvers
The Last Encore – Appeal
Variables Affecting Who Wins
Class Action Lawsuits
Tort Reform
Conclusion
Module 3 – Theories of Liability and Defenses Used in Medical-Related Cases
Intentional Tort
Negligence
Strict Liability
Implied Warranties of Merchantability and Fitness
Representation
Module 4 – Anatomy of Personal Injury, Products Liability, Toxic Tort and Workers' Compensation Cases
General Personal Injury and Medical Malpractice
Products Liability
Toxic Tort Cases
Work-Related Injuries
Module 5 – How to Screen Medical-Related Cases Effectively and Efficiently
Introduction
Persons Who Screen Medical-Related Cases
Factors That Affect Initial Screening Opinions of Attorneys and Insurance Companies
What Certified Legal Nurse Consultants Need to Screen a Case
Potential Defendants
Principles of Screening
Case Screening Form
How to Use the Screening Form
Model for Communicating the Screening Opinion
Plaintiff Alert Situations
Cases Plaintiff Attorneys Frequently Reject
Case Evaluation Workshop
Module 6 – Comprehensive Case Evaluation Strategies and
Report Writing Techniques
21 Steps for Evaluating Medical-Related Cases Effectively
Introduction to Report Writing
Report Formats for Brief → Comprehensive Reports
Components of the Report for Consulting Experts and Testifying Experts
Principles of Report Writing
Plaintiff Deviations Used in Medical Malpractice Cases
Submitting the Report
Module 7 – How to Research Medical-Related Cases
Getting Started – The Basics
Selecting the Best Sources of Information
Search Results and Search Strategies
Databases and Other Resources
Database Vendors and Selection
Information Brokers
Document Delivery
Citing Literature and Internet References in Reports
Conclusion
Module 8 – Standards of Care
Defining Standards of Care – What They Are and Why They Are Used
Sources Indicative of Standards of Care
Obtaining Standards and Guidelines
How Attorneys Use Standards of Care in the Courtroom
Implications of Standards for Plaintiff and Defense Clients
Common Defenses Related to SOC
Analyzing Policies and Procedures of the Defendant Healthcare Facility
Module 9 – Helping Attorneys with Discovery
Guidelines for Drafting Discovery
Types of Interrogatories Directed to Defendants
Types of Requests for Production Directed to Defendants
Types of Interrogatories Directed to Plaintiffs
Types of Requests for Production Directed to Plaintiffs
Module 10 – Helping Attorneys Develop Demonstrative Evidence
Definitions
Purpose of Demonstrative Evidence
Media Used for Demonstrative Evidence
Principles of Conceptualizing and Developing Demonstrative Evidence
Working with a Graphics Consultant
Admissibility of Demonstrative Evidence
Module 11 – The Role of the Nurse as a Testifying Expert
Testimony by Expert Witnesses
Who Testifies and Why
Getting Hired as a Testifying Expert
Communicating Skillfully with Your Attorney-Client
Preparing for Deposition and Trial
Your Testifying Experience
Powerful Testifying Strategies for Testifying Experts and Nurse Witnesses
Module 12 – Locating and Working with Testifying Experts
Benefits to the Legal Community
Assessing Qualifications of Potential Testifying Experts
Sources for Locating Testifying Experts
Brokering Testifying Experts for Law Firms
Working Effectively with Testifying Experts
Types of Testifying Experts Used in Medical-Related Cases
Fees for Locating Expert Witnesses
Module 13 – How to Formulate and Negotiate Contracts
Contracts
The Seven Major Parts of a Contract
Contract Negotiation Strategies
Contract Drafting Strategies
Module 14 – Legal and Ethical Issues
Liability Issues
Conflicts of Interest
Confidentiality
Module 15 – Developing a Marketing Strategy
Four Elements of Effective Marketing
Plan in Advance for Your Success
Build Strong Attorney-Client Relationships by Committing to Quality, Excellence and Service
Create and Project a Winning Brand and Image
Implement Relevant and Effective Marketing Strategies
Module 16 – Successful Interview Strategies
Self-Assessment
Interview Preparation
Strategies for a Successful Interview
Common Attorney Interview Questions
Turn Objections into Opportunities
Close the Sale
Evaluate Your Performance
Module 17 – Business Development Principles
Setting Up and Managing Your CLNC Business for Profitability
Professional Services and Resources You'll Need
Choosing the Right Business Structure
Office Space
Office Equipment and Furniture
Tax Deductible Items
Information Management, Storage and Retrieval
Expanding Your CLNC Business Through CLNC Subcontractors
Business Management Strategies
Negotiating Your Fee to Earn What You Are Worth
Billing
Collection – Making Sure You Get Paid on Time
Glossary of Legal Terms
CLNC® Certification Program – Review Questions and Answer Key
Learn How You Can Earn Up to $150/hr as a CLNC® Consultant