CLNC® Certification Systems
VIP
Our most comprehensive program
includes unlimited mentoring plus we market to attorneys for you
Executive
Master report writing and marketing with the NACLNC® Apprenticeship
Basic
Everything you need to consult on
your first case
Get Certified In Just 5 Days
In just 40 hours Online, we teach you how to turn your years of nursing experience into a lucrative career as a Certified Legal Nurse Consultant. Vickie Milazzo Institute's CLNC® Certification provides you with:
"My blueprint for success has proven itself over and over. I don't leave out a single thing, and I
don't slow you down with irrelevant material. You'll use everything I teach you. I show you how to become a
prosperous CLNC® consultant and teach you how to effectively market yourself to attorneys."
– VICKIE MILAZZO, RN, MSN, JD
CLNC® Certification Process
Vickie Milazzo Institute's legal nurse consultant certification program is the nation's oldest and largest certified legal nurse consultant program.
Our certification process is the most comprehensive legal nurse consultant core curriculum in the industry, covering everything from understanding how you fit into the litigation process to how to analyze medical-related cases. And CLNC Certification from Vickie Milazzo Institute is the only Certification endorsed by the National Alliance of Certified Legal Nurse Consultants.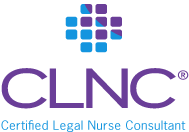 Learn More About CLNC Certification Review Core
Curriculum
Learn Online 24/7 on Your Computer, Smart Phone or Tablet
Real CLNC® Stories
"Vickie's mentorship has been critical to my success as a Certified Legal Nurse Consultant. Purchasing all of Vickie's educational materials has also helped get my CLNC® business off the ground. I've used each and every one."
Michele R. Groff, PHN, MSN, CLNC, California
Save
Save