Real Nurses Unreal Success
Since 1982, Vickie Milazzo has personally trained and mentored thousands of registered nurses in the field of legal nurse consulting.
A registered nurse herself, Vickie knows that RNs aren't afraid of hard work. Her approach to legal nurse consultant certification is both challenging and the most thorough in the industry because Vickie knows that nurses can do anything.
These nurses have taken the on-the-job life lessons they learned, combined them with Vickie's industry-leading CLNC® Certification Program and transformed their nursing careers.
Read CLNC® Success Stories
Get an inside look at the amazing journeys of your fellow registered nurses. From exhausting 12-hr shifts with little appreciation to financial freedom and success as a Certified Legal Nurse Consultant through Vickie Milazzo Institute. Read how these nurses triumphed over personal challenges and, with Vickie's proven strategies for CLNC success, changed their lives and nursing careers.
Within four months as a full-time CLNC® consultant, I billed more than $125,000. Last year, I billed $330,000.*
Darlene Bellows, RN, CLNC
Tennessee
Vickie's Unique Approach
When Vickie pioneered the field of legal nurse consulting in 1982, she single-handedly created a new nursing specialty. With over 37 years as both the pioneer of the field and as a mentor to thousands of CLNC consultants, Vickie brings a unique perspective to legal nurse consultant certification as only she can. Passionate about helping registered nurses attain the same life-altering success she did, Vickie still teaches every live and online CLNC Certification Program. Learn more about Vickie's unique approach.
NACLNC® Association
When you become a Certified Legal Nurse Consultant, you receive free membership in the National Alliance of Certified Legal Nurse Consultants (NACLNC®), the world's largest legal nurse consulting association. This prestigious organization provides an instant professional network where you can connect with thousands of Certified Legal Nurse Consultants across the country.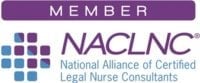 Your membership in the NACLNC® Association assures attorneys they are consulting with a certified member in good standing of the most authoritative association in legal nurse consulting. Advanced legal nurse consulting educational events, exclusive to CLNC® consultants and current students of the Institute, are where you will come to learn, find CLNC® subcontractors and conduct business.
Learn How You Can Earn Up to $150/hr as a CLNC® Consultant