If you're like me you love the high of Valentine's Day and the passion it inspires. But, how would you rate your passion about your career? What kind of flowers would you send to your legal nurse consulting business? Or send to your RN job at the hospital if you're not yet a Certified Legal Nurse Consultant? Would you send roses, lilies or a tumbleweed?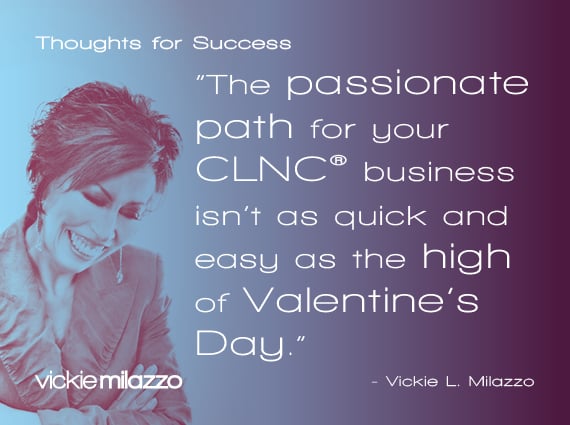 Do you love what you do? If you went to an amusement arcade and dropped a quarter into one of those machines where you squeeze a pair of grips or a mechanical hand, would your passion rating be "stone cold" or "hot tamale?" Did I hear you say, "hot tamale?" Great! But what if you said, "stone cold?"
The passionate path for your legal nurse business isn't as quick and easy as the high of Valentine's Day. After I became an independent legal nurse consultant, I went to law school at night. I was also consulting with a group of attorneys who, after I graduated, offered me a position as an associate attorney. I graciously and easily declined, thinking, "Why would I want to do that? I'm doing what I love, having more freedom and making more money than any new associate attorney." A year later a partner at the law firm approached me and said, "Okay, if you won't come on as an associate, we're inviting you to be a partner at our law firm."
This attractive offer raised the stakes considerably. Suddenly saying yes to my passion wasn't so easy. I loved consulting with these attorneys, and a partnership would guarantee a bigger and brighter future every year, financially and in other respects.
But after my ego stopped dancing around the room pumping its arm and shouting "Yes!" I declined the offer. Practicing law was not my passion, even with such ideal conditions. I remember saying to Tom, "There are attorneys who would die for this offer. Am I crazy to turn this down?" Choosing passion paid off big. My passion was so strong that my business soon soared despite my lack of business training or education. I surpassed the law firm's offer in terms of money, vacation time and flexibility. To this day, I am able to maintain my freedom, continue creating my own financial security and, most of all, enjoy the legal nurse consulting industry I created.
That kind of decision isn't easy. What's easy is to compromise, say yes to a lukewarm interest because we, or someone else, think it's a smarter decision. Live and work your passions and the rewards will come.
When you get married, you go into it with the plan of being in the marriage for a long time. Business is a lot like a marriage. It's a lot of work with ups and downs, fast times and slow times. If you haven't yet started a business, know that once you do, you'll spend more time in that career and business than you will in your marriage. We're often at work more than we are at home with our family.
If you've chosen to do something you love, and can be passionate about, you won't be working for a living, you'll be living for working, and because you'll be doing it with joy, you'll be able to do it a lot longer.
Design your nursing career or legal nurse consulting business to be your passion – the one you love. Choose what you love.
Decades ago, I was forced to make a choice between money and passion. I chose passion. I'll be sending my business 12 dozen red roses today. I hope you will be too.
Success Is Yours,
P.S. Comment and share what type of flowers you're sending your legal nurse consulting business for Valentine's Day.