Apple® Watches have quickly become ubiquitous. It seems like everyone owns one. You can use an Apple Watch for almost anything. I especially like the Dick Tracy-like ability to take phone calls. But there's more to the Apple watch than texts, email and calendar alerts that Certified Legal Nurse Consultants can find useful. Here are 3 tips to mastering your Apple Watch:
Mute Those Pesky Alerts. Nothing annoys me more than being someplace quiet and someone's (not mine) Apple Watch gets all noisy. The sound could be a calendar reminder, phone call, Facebook notification or incoming text. Rather than have to fish about for the offending app, you can simply set your watch to mute those alerts by "palming" it. In other words when the alert sounds, cover the watch's display panel for 3-5 seconds with your other hand and that annoying alert will turn off (unless the caller tries again). How? Pick up your iPhone® and go to the Apple Watch app. Next select My Watch then Sounds & Haptics and turn on Cover to Mute. Everyone around you will thank you later.
Get to Attorney-Client Interviews Early. Are you one of those people who set their clocks 5-10 minutes fast so that you can get to appointments on time? Here's how to do the same on your Apple Watch. Simply go to Settings then Time and +0 min. Then you can set your watch display ahead as far as you want. It won't change your alarms but you'll be where you want to be, when you want to be there.
Hide Those Unwanted Apps. With a plethora of apps on the phone it's hard to sort through them to find the ones you need. To free up some screen space on your Apple Watch you need to start with your iPhone. Go to your iPhone's Apple Watch app. Select My Watch on the bottom of the tabs menu and then scroll through the apps until you locate the app(s) you want to hide on your Apple Watch. Then touch or select that app(s) and slide the option to Show App on Apple Watch to off. The app will be hidden but not deleted. Note: This only works for some, but not all, apps. Trial and error will tell you which ones you can and cannot hide.
Those are my 3 Apple Watch tips for today. If you have any you want to share click on the Comment and Share link below and let us all know. In the meantime, enjoy your Apple Watch!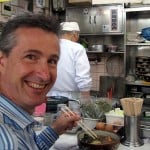 Keep on Techin',
Tom
P.S. Comment and share your favorite Apple Watch tip.