In last week's Favorite Quote I talked about the first step to legal nurse consulting success – imagination. You can only achieve what you imagine, nothing more. There's an equally important second step to achieving success. Once you imagine it, the next step is to believe it to achieve it.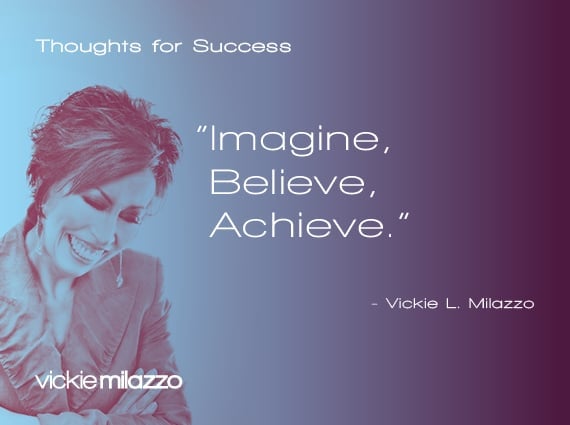 Belief is the mental acceptance that something is true even though absolute certainty may be absent. Belief is what pushes you to go all out – to put your heart and soul into the effort. Do you really put your all into something you don't believe in? Think about it. After you found out your parents were Santa Claus it didn't really matter if you were naughty or nice, did it?
You need to believe in what you imagine. Imagine, believe, achieve. You have to have convictions about it. You have to trust it. Belief is not wishful thinking. It's not just hoping. It's more concrete. You have to have faith and confidence that what you believe is true.
So where do we find belief? Imagination supported by concrete facts quickly becomes belief if you imagine your legal nurse consulting business making $300,000 dollars this year then back it up with concrete facts: "I have my CLNC® Certification and other Certified Legal Nurse Consultants have done it."
When I first started my legal nurse consulting business I was working at a full-time RN job at the hospital. I clung to that job, because I didn't yet believe that I could make consulting a full-time business.
So, I worked days as an RN, and nights and weekends as a legal nurse consultant. I'd get so tired I would forget where I was. Once I was talking to an attorney and the next thing I knew, I said, "Bend over, I've got to take your temperature." LOL!
Although I was having the time of my life consulting with attorneys I was afraid to let go of my RN job. As a consultant, I was making four times the money I was making at the hospital. So why didn't I let go? Lack of belief. But then one day, while preparing the financials for my business, it hit me. "I'm actually losing money working at the hospital." That concrete fact is what gave me the belief to go for it.
It's not what happens to you, it's what you believe. Do you believe you can leave your RN job this year? So do you believe you can do it? Do you believe you can increase your income by 20% this year?
One Certified Legal Nurse Consultant hears an attorney say, "I never use nurses, I only use MDs." and she walks away like Debbie Downer thinking, "I can't do this, there's no market." Another Certified Legal Nurse Consultant will have the same experience and walk away thinking, "Sorry, dude, that's your loss. Oh, by the way, next time you call, my fee will be double."
When you get a rejection, just think of Colonel Sanders, Walt Disney and Einstein. If you've gotten 302 rejections you're on the road to success. Imagine, believe, achieve.
What you imagine is what you get. What you believe is what you get. What do you imagine for next week, next month, next year? Imagine it, believe it and you will achieve it. You're only 3 words away from legal nurse consulting success.
Imagine, believe, achieve. I believe! And I believe in you.
Success Is Yours!
P.S. Comment and share what you believe is possible for your legal nurse consulting business.