The proliferation of home and office-based wireless networks has made things so easy for us. It's hard to remember a day when you had to hard-wire a computer to the Internet in order to get online. Today, everyone in your home or legal nurse consulting business's office can be connected wirelessly – except when they reach the fringes of your home or office network.
Even at LegalNurse.com we had to spread wireless routers (connected by long cables) around the office to ensure connectivity for everyone on tablets, laptops and even TVs. At our home I can take my laptop or tablet everyplace I want except where I need it – in the garage when I'm trying to diagnose a problem with my car (or figure out what to do with all the leftover parts).
Today, life is good and wireless connections are easier than ever to set up and spread around. You can simply purchase a Velop® wireless mesh system (made by ever-trusty Linksys) and spread it throughout your house to ensure that every corner of the house has Wi-Fi. Instead of the old repeater system, which lost signal the further you got from the original node, mesh networks, and specifically Velop nodes, ensure 100% signal power no matter how far away they're placed or how many you have in use. Mesh systems connect with one another and maintain a single network configuration eliminating the need for multiple IP addresses or lengthy set up procedures. Velop comes in singles or sets of two or three so you can buy as many or as few as you need, giving you full power and connectivity everywhere you need it.
If you're having trouble extending your home or office network to everyone who needs it, consider adding a Velop mesh network today.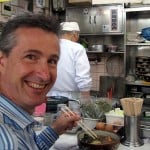 Keep on Techin',
Tom
P.S. Comment and share your experiences with home or office wireless networks.