Vickie always says, "Word of mouth is the best referral technique." I find word of mouth works outside of your legal nurse consulting business as well. For example, there are literally millions of apps on the market for the literally millions of devices that use apps. When I'm out and about, I'm always glad to meet another iPhone® junkie and share tips, tricks and apps with them. Like all of you busy Certified Legal Nurse Consultants, I don't have time to sort through the App Store, read all the app reviews and, in an insecure fashion, worry about how securely those apps will treat my private data.
On the 2013 NACLNC® Conference Cruise I learned about several new apps that I'm definitely going to try out. Today's Tech Tip is about the first. I believe it's a must-have for any CLNC® consultant who travels as part of her legal nurse consulting business. It's a free iOS app available in the iTunes Store called Genius Scan. The genius of this little app is adapted from something I blogged about last year: instead of carrying around dry cleaning, shoe repair and other easily lost tickets, I recommended snapping a photo of that ticket. That way, if and when the ticket gets lost, you'll still be able to pick up your dry cleaning. The Genius Scan folks have created an app that lets you snap a quick photo of your cash or credit card receipts. After that, you can trash those paper receipts instead of stuffing them into your wallet, purse or pocket. Because they're now digital you can then organize those receipt-photos into folders and categories. When the time comes to do your expense report, there's no excuse for a missing receipt! I wonder if they got the idea from me?
Well, it doesn't matter as long as you've got the idea now. So my CLNC® amigos give Genius Scan a try on your next business trip or appointment.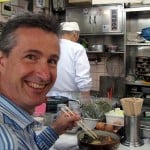 Keep on techin',
Tom
P.S. Comment here and share your favorite business app for any device!