That's actually a trick question. The real question is whether or not you should use a password on the smartphone or tablet you use in your CLNC® business. What's that you say? Passwords are too cumbersome and time-consuming? Well, let me ask you, what do you think would be more time-consuming: taking two seconds to type in a 4-digit passcode each time you reach for your device, or untangling your life after someone has stolen your banking information, all of your contacts, possibly your identity, has read and forwarded your email and just wrought havoc with your life because you've lost your smartphone and it has fallen into the hands of some villain?
As our phones have grown smarter and are slowly replacing or supplementing our computers, we use them for more and store more personal information on them. As this occurs, we increase the danger if that device is lost. We protect, or at least I hope you do, our computers with passwords. We use passwords to login to websites, so why not use a passcode on your smartphone or iPad®? And I do mean something more complex than 8888 or 1234 or moving the puzzle-piece into place to unlock your phone. If you're really brave (or don't have children who play with your phone or tablet), you can configure it to wipe itself clean after ten failed attempts to login. That's what I've done (but that's also why Vickie knows the passcode to my iPhone®).
I've given you tips in the past on how to recover a lost phone; now I'm giving you the best and most important tip of all – use a passcode on your phone, before it's too late. Remember, there's more to Taking Care of Business than being in business. That means taking simple steps to protecting your legal nurse consulting business. Start today. Your information is too important to lose and your life is too complex to rebuild.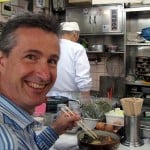 Keep on techin',
Tom
P.S. Comment and share why you use a passcode or are reluctant to do so.