Okay, I've got to admit something. You've heard me brag about my dual 20″ monitors on my desk. Here's the confession. I've gotten to the point where I cannot work without two monitors staring me in the face. In my office, I keep my email open on one monitor (the right) so I can do the ADD thing as soon as something important that requires me to drop what I'm doing and immediately attend to someone else's problem, drops into my email box. I do turn off the sound so the pinging doesn't drive me totally bonkers.
The left (really center) monitor is my workspace. This is where I do the important things (write my Tuesday Tech Tips, surf the Internet and occasionally some real work). I'm constantly mousing back and forth between the two monitors. If I'm editing documents, I'll keep one document open on one monitor and drag another to the other. I even accidentally discovered that in Outlook you can right click the calendar or email icons at the bottom left and open either in a new window! That way when I'm putting a deadline from an email into my calendar or preparing another list of my availability dates to send to President Obama, I don't have to depend on my bad memory, I just look back and forth.
Legal nurse consultants, if you haven't tried duals you're missing out. These are even more fun than using tabbed browsing in Firefox to look at multiple websites. The possibilities are endless. I haven't tried spreading a spreadsheet across the two… maybe later. Think about working on your reports for your attorney-clients. You can have the scanned medical records on one screen and your report on the other while doing research in the background.
"Tom," you might be wondering, "you're a lowly laptop user – how did you plug two monitors into a laptop?" Well the answer is simple. I've got my dock, and my dock has two different outputs on the back for monitors – a standard VGA output (old school) for the monitor I put on top of the dock's built-in stand and a DVI output (modern). Probably the designers figured people would have one type of monitor input (VGA or DVI) so they were building-in choice. By buying a second monitor with the DVI output, I was able to plug in a second monitor!
Newer docks are already on the DVI bandwagon and often come with two DVI outputs as well as the one good old VGA output. Check carefully before you buy. After you get your dock, you simply match your monitors to the output and away you go!
If you don't yet own a dock (or port-replicator in geek-speak) you can still run duals on your laptop. You simply plug a second monitor into your laptop's output (VGA or DVI) then boot up the laptop keeping the screen open. Once it's booted, right-click anywhere on the screen (desktop in geek-speak). Click Properties, click Settings and tell it to Extend my Windows Desktop onto this monitor or specify both monitors as Attached depending upon what you see. If you plug a keyboard and mouse into the laptop, you don't have to keep it up close and can even mount it on a laptop stand
to raise the screen to eye level.
Now it gets cool. You can drag the monitor icons on the Settings screen left or right. This allows you to place your second screen to the left or right of your main and then roll your mouse off the left or right (depending upon where you place your monitor) of your screen and right onto the second monitor. Your cursor can fly through the thin air between two monitors!
Desktop owners, don't start crying in your beer (or Perrier) yet. You may be able to do the same trick since most newer desktop computers support dual monitors right out of the box. You could be ready and not even know it. Look on the back of your computer (don't sneeze from the dust). If you can find more than one VGA or DVI outputs on the video card that sticks out from the back of your computer, then you're ready to go. Buy a second monitor with inputs that match your free output, plug it in and follow the steps above to activate it.
If you only have one output (VGA or DVI) you can haul your computer to the local geek store and they can drop in a second video card or replace your current one with a card that has dual monitor support for under $100. If you really want to create monitor envy in your friends, instead of replacing your old single card – add the second dual port card. Then, if you have the wall space, you can have three monitors! You'll triple your work output.
There is one other option for the spacially challenged. At home, I don't have the desk space for duals, instead I had to compromise and install just one freakin' huge 26″ wide-screen monitor. YEAH, BABY! It's like sitting in the first row of a movie theater and I love it. It's big enough that I can open two slightly narrower versions of the dual windows I use at work without feeling (too) compromised by the smaller space and it keeps me from getting claustrophobic. If you don't have enough desk space for duals, take my advice and do the next best thing, "Go wide, young CLNC® consultant!"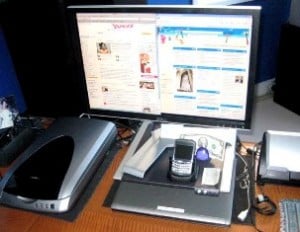 Time to tech-out here, so think about the duals. I've got to warn you – they're addictive. Now, when I'm on a plane, train or automobile and I'm working from my laptop's single (but wide) screen I can just about scream from frustration when I can't work in the dual manner and style to which I have become accustomed.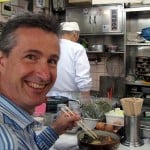 Keep on techin',
Tom
P.S. Comment and share your experiences with dual or more! monitors.