Become a
Legal Nurse
Join the thousands of RNs who have completed the legal nurse consultant programs taught by the industry pioneer herself, Vickie Milazzo. Featuring the most sought after curriculum and the only Online Video program in the industry PLUS free mentoring from Vickie and practicing Certified Legal Nurse Consultants. You can get certified in just 40 hours, Online.
Get your FREE BOOK: Introduction to Legal Nurse Consulting to learn how you can get started!
Get the BOOK & Info Packet FREE
Thank you for requesting our Info Packet! We will send the Certification Catalog and the FREE Book on Legal Nurse Consulting to you promptly.
By clicking above, you agree to receive emails from Vickie Milazzo Institute.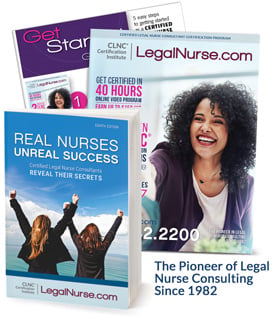 Vickie's CLNC® Certification Program was great, informative and certainly the beginning of my success. Every door I have knocked on has been opened. Within four months as a full-time Certified Legal Nurse Consultant, I billed more than $125,000. Last year, I billed $330,000.*
DARLENE B., RN, CLNC
TENNESSEE